8 Bollywood Celebrity Exes Who No Longer Speak to Each Other!
#5 involves pressing molestation charges!
The current generation of Bollywood couples seem to be hitting it off well and maintaining a healthy camaraderie, even after parting ways. Whether it's Ranbir Kapoor and Deepika Padukone, or Ranveer Singh and Anushka Sharma, it's actually difficult to pinpoint a celebrity ex-couple that hurl fire balls at each other. Mature? We guess so. But Bollywood wasn't always like this, and here are 8 cases where the exes do not even look at each other after their split. Like AT ALL.
Advertisement - Continue Reading Below
1. Salman Khan and Aishwarya Rai
From their sizzling chemistry on screen in films like Hum Dil De Chuke Sanam, to their raging controversies continuing till years after their break-up, Aishwarya Rai and Salman Khan have always been a deeply embedded mystery in the chapter of Bollywood. The couple that was much-in-love once, does not even look at each other now. Aishwarya has reportedly admitted that Salman's abusive nature and violent activities in the likes of creating scenes at her workplace or outside her apartment, forced her to walk away for good.
2. John Abraham and Bipasha Basu
The couple that went on strong for 9 years (a very rare case in Bollywood), giving us major #RelationshipGoals, shocked everybody to the core when they publicly decided to part ways, a couple of years ago. John and Bipasha were Bollywood's 'love-birds' once upon a time, and it is heartbreaking to see how it feels like their relationship never existed at all, with both of them blissfully married to their respective partners, Priya Ruchal and Karan Singh Grover.
3. Harman Baweja and Bipasha Basu
Amid rumours of getting married soon, Bipasha Basu and Harman Baweja released a joint statement that they are taking a break from their relationship and this doesn't mean that they both are breaking up. But few months down the line, Bipasha finally confirmed their breakup, on a note that she would like to remain friends with him, and there was no heat between the two. Ironically, she denied all rumours of Karan Singh Grover being the reason behind their break-up, but we all know the events that followed and told otherwise. Oh, well.
4. Karisma Kapoor and Abhishek Bachchan
Everything was set, and the whole of Bollywood was waiting for this engaged couple to get married. Sadly, when Karisma and Abhishek called off their engagement, they ended all cordial relations then and there, and completely stopped talking to each other. While Abhishek is a doting husband and a proud parent; Karisma's marriage with Sunjay Kapur had hit the rocks ending in divorce, last year.
5. Preity Zinta and Ness Wadia
A top actress met a top businessman, and a fairytale romance begun in 2005, which led to both of them buying an IPL team together by the name of 'Kings XI Punjab'. But, their rosy days could not be sustained for long and culminated with Preity Zinta filing a complaint against Ness Wadia accusing him of molestation, threats and abuse on June 13, 2014. That love story turned out to be disaster, and boy were we glad when Preity finally announced her marriage to Gene Goodenough, last year.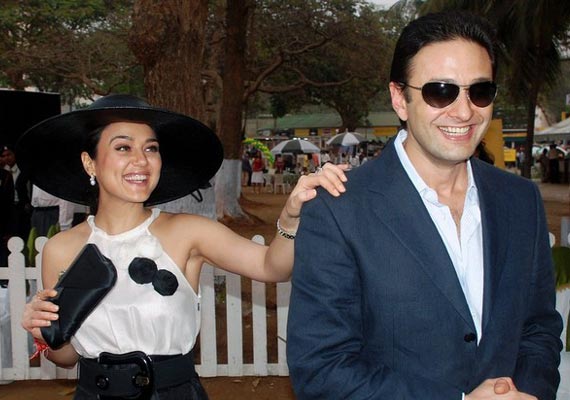 6. Akshay Kumar and Shilpa Shetty
A short-lived affair, but a credible one nonetheless; Shilpa Shetty and Akshay Kumar were famous for a sizzling chemistry on-screen and had all plans to get married. But, things turned downhill for the duo when Akshay Kumar ditched her for Twinkle Khanna. Shilpa went on record to say, "Akshay used me and conveniently left me for someone else." Well, considering her present status and life with Raj Kundra,we're sure she is definitely in a happy space now!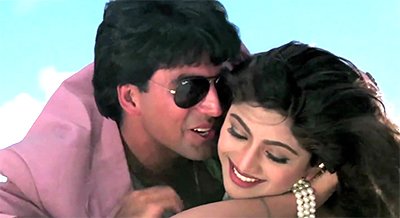 7. Kareena Kapoor and Shahid Kapoor
She put him on the map, and their's was a couple that was always in limelight. Kareena and Shahid were inseparable for three years, and broke up while filming Jab We Met; a cult film that was high on their chemistry! Soon enough, Saif Ali Khan entered Kareena's life on the sets of Tashan, and there was no looking back. Despite being happily married to their respective partners, and each of them being parents; Shahid and Kareena still avoid talking about each other, or share screen space together.
8. Vivek Oberoi and Aishwarya Rai
Vivek Oberoi was the sweetest boyfriend ever, when he surprised Aishwarya Rai with 30 gifts on her 30th birthday till he allegedly took advantage of the fame and held elaborate press conferences, discussing how Salman threatened their lives with 41 phone calls. Aishwarya was definitely not impressed and she publicly labelled him as 'immature'. This inevitably led to the couple splitting ways, soon after.