The Secret Health Regime That Makes Bollywood's Fittest Moms Tick!
Embracing motherhood—like a bawse!
Along with the little bundle of joy, pregnancy brings with it oodles of weight which may or may not be a problem for mothers. But a healthier option is definitely aiming for a fitter YOU, and unlike popular belief, it is very well possible to lose weight post your baby, and even maintain fitness, lifelong!
These celebrity mothers are breaking all barriers to post-motherhood fitness, and have successfully maintained their svelte figure, despite being proud mommies!
Advertisement - Continue Reading Below
Kareena Kapoor Khan
Kareena Kapoor broke headlines when she introduced Bollywood to the concept of a 'size-zero' figure, and then again when she flaunted her baby-bump proudly. All this speaks volumes about her eternal love for her body, and the priority that health has in her life. The actor was on her feet soon after her pregnancy, and we can vouch for the oodles of weight she has already lost!
Kareena's trainer and yoga instructor—Anushka Parwani—has helped the new mom embrace a new workout to get back in shape. An avid yoga enthusiast, Kareena's secret weight loss agent is this new routine called 'Flying Fit' which includes 60 to 75 minutes of aerial twists, along with a high intensity yoga and pilates workout, apart from the usual mix of pranayam, meditation and surya namaskars.
Advertisement - Continue Reading Below
Training with Anshuka since 2009, achieving an ideal weight was never their goal for Kareena. Anushka says, "Her workout is tailor-made and we keep changing the routines. Post pregnancy, it's been a lot more about balancing out hormones and the endocrine system. She practices the 'Aerial Silk Yoga' which uses a low-hanging hammock to aid traditional postures by supporting your entire body weight mid-air. Kareena and I are always working towards achieving more aligned postures through relaxation and breathing. I usually travel with her so we don't miss a session and when I can't she does cardio."
Advertisement - Continue Reading Below
Malaika Arora Khan
A self-proclaimed Pilates junkie, Malaika Arora Khan literally defines fitness! She has always been gorgeous, and super-fit—looking not at all like a mother! She admits that working out busts her stress which is why she promotes it as a lifestyle in her family as well. Her social media has an abundant dose of #fitspo and the flawless beauty dedicates a lot of it to Pilates.
She says, "A few years back, I had a hamstring injury and that's when someone suggested Pilates to me. It took me more than a year to heal but it was natural and rather, it strengthened my body further. It uses your own muscle weight and is challenging. I do floor workouts, weight training and use resistance bands sometimes. It's very interesting."
Training under celebrity fitness trainer, Namrata Purohit, Malaika adheres to a healthy lifestyle in general, making us swoon over her toned figure, time and again.
Why she loves Pilates— "The fact that it enhances my flexibility is great. I have lately challenged my arms and they have thankfully toned up now."
To add to this, the actor eats a clean diet with salads, soups, fruits, chicken and fish, never missing her breakfast or starving!
Aishwarya Rai Bachchan
The epitome of beauty, and former Miss World, Aishwarya Rai Bachchan took her own sweet time to lose her post pregnancy weight, as she wanted to revel in the joy of bringing up her daughter, Aaradhya.
But when he finally resorted to it, she changed her body remarkably, evidence of which was so breathtakingly visible in her recent Cannes red carpet appearances! Aishwarya was always a yoga fanatic, but also took to cardio to aid her post-baby weight loss.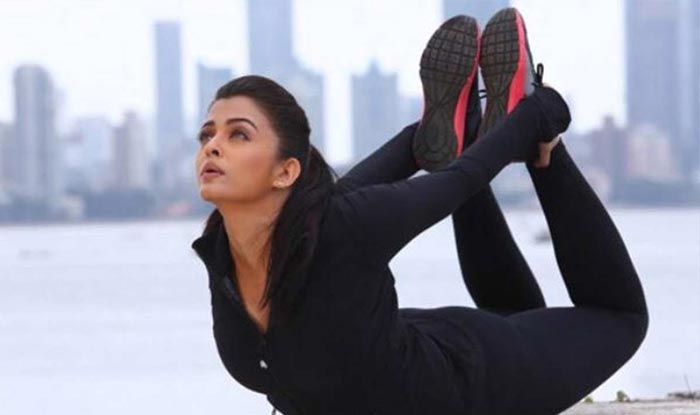 Her secret trick—a super clean diet! The actor changed her diet and relied a lot on it to get back in shape, including things like vegetables, fresh fruits, brown rice, grilled fish and green leaves in her diet. Small changes like shifting to brown rice, including ample proteins, and drinking gallons of water—helped her shed the extra kilos, and look phenomenal.
Shilpa Shetty Kundra
One of Bollywood's fittest actors, Shilpa Shetty revolutionised Yoga, and introduced the world to its immense capabilities as a weight loss agent. Sporting an enviable body, Shilpa Shetty never failed to give us #BodyGoals.
New to motherhood, everyone wondered how she would deal with post-pregnancy weight and its various nuances. She said, "I have always been known for my body, health and fitness. However, for five months after Viaan was born I didn't think of my weight. I was not able to do some things that I used to do earlier as I had put on 20 kilos. I realised this one day when I bent to pick up Viaan. More than about not being fat it was about being fit. Fortunately, I had a good trainer. After five-and-a-half months of exercise I had lost 18 kilos."
Advertisement - Continue Reading Below
Shilpa encourages all mothers to not ignore themselves, over the all-consuming process of bringing up a baby, and recommends just exercising for an hour everyday, to start with.
"For the first nine months, a child sleeps a lot. Mothers should utilise that time to do some cardio and gymming. Remember you are doing it for yourself and to be fit."
Training under celebrity fitness expert, Vinod Channa—Shilpa lost a whopping 18 kilos super-quickly by following a balanced diet and leading an active lifestyle.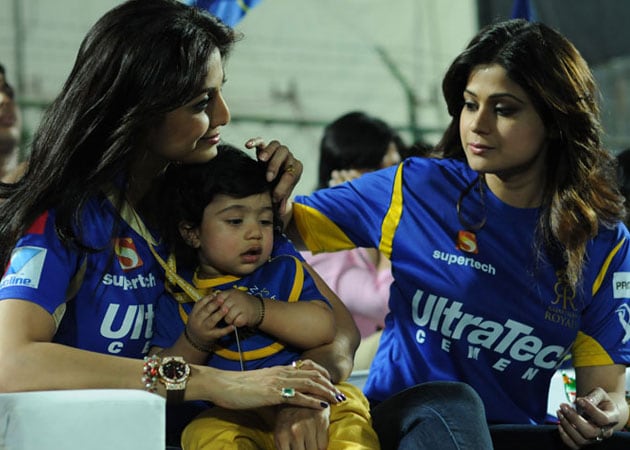 Her diet focused on proteins and carbohydrates, since a lot of women face bone problems. Owing to wrong eating habits and lack of movement and exercise, she had gained weight and lost her strength and fitness. She also faced joint problems in her neck, knee and lower back.
According to Vinod Channa, "It was very difficult to make her workout in first place. I made her work on strengthening her immune system and inner-outer thigh muscles, along with lower base and core strengthening workout.I gradually added different techniques like functional, animal flow workout, conditioning workout, which she never did in the past. She followed a strict diet with limited carbohydrates - balancing the protein along with vegetables and fruits. I helped her lose 21 kgs in 3 and ½ month naturally. She worked towards a better shape than what people had seen her on-screen. So, anything is possible with right guidance, dedication and sacrifices."
Besides this brigade of women who are still new to the joy of motherhood, there are some celebrity mothers who have been incredibly fit, and work really hard to lead a healthy lifestyle. They can totally give their children kick*ss competition, when it comes to fitness. A few of them are—
Neetu Kapoor
One of the most fittest celebrity mothers, Neetu Kapoor is extremely anal about her and her family's health.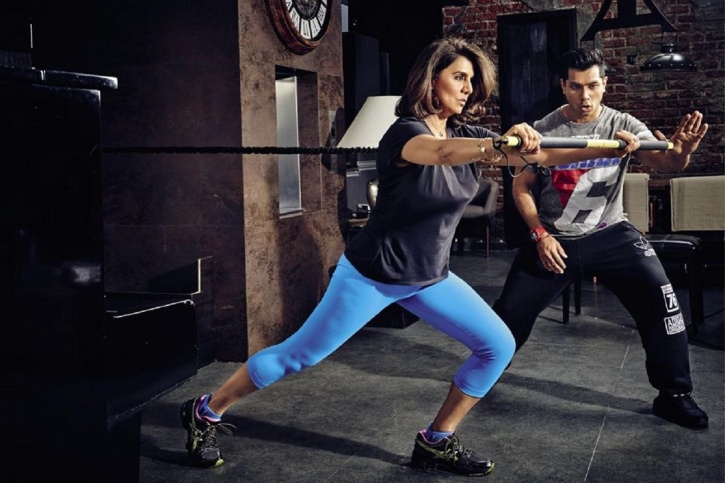 A tweak in their diet has played a pivotal role in keeping her in shape. She says, "Rishi and I eat the same home-cooked food, which is always healthy. Of course, when he goes out, he goes berserk and is never sensible with ordering. But at home, I control what he eats."
Neetu Kapoor abides by certain tips and tricks which ultimately help her in keeping calories at bay, like eating pre-hand before heading off to a dinner party, or picking healthier options like light wonton soup or stir fried vegetables. She absolutely steers clear of buffets—eating biscuits and nuts at home, later!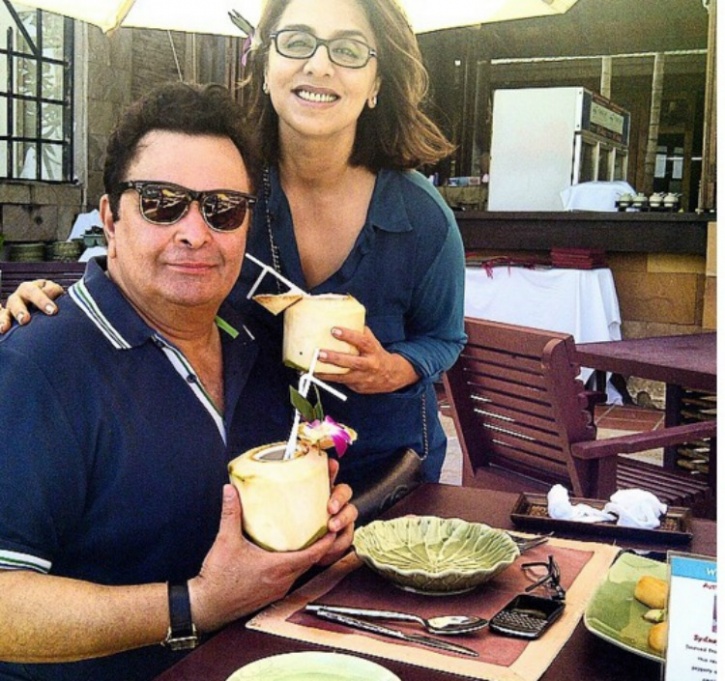 However, the healthy homemaker has her weakness— caramel pudding in particular and chocolates and even has a city-based chocolatier on call, to deliver specially-curated dark chocolates.
Her preferred fitness routine includes high-intensity plyometric work dominated by exercises on suspension trainers. Her fave is kick-boxing—it helps her vent out frustration!
Soni Razdan
At the ripe age of 60, and a mother of two grown up daughters, Soni Razdan describes her fitness journey as a relentless search for the "right form of Yoga". There have been times she has fallen asleep in the midst of a session, especially the traditional sort that lacks tempo.
As someone who was super-active ever since she was a kid, Soni Razdan found comfort in Ashtanga Yoga. She says, "I love it. You're either constantly breathing strong, or moving. In 15 minutes, you drip sweat."
Much like Alia, she too is an ardent Pilates fan as it focuses on lengthening muscles instead of bulking them. She skips out on social gatherings to avoid unnecessary calories, and got more picky with her diet when she developed a thyroid condition.
She alternates between swimming with Pilates and Yoga with a 4-km walk, and prides herself for nailing the Scale Pose in Yoga!
Ayesha Shroff
Whether it was the burden of being a mother to a fitness icon in Bollywood, or her own health in her mind, Tiger Shroff's mother—Ayesha Shroff could beat you in lifting weights!
"When Tiger started weight-training at 17, I was motivated. A few years later, Nitesh (celebrity trainer) came into our lives and he made me feel I'm capable of more. I felt there was someone who took me seriously, saw me as more than just a mom to two kids, and wife to Jackie Shroff. He reminded me of how fit I was as a child, and got me addicted to weight training. Eventually, I started being recognised as the 'lady who can deadlift so much!," she quips.
Ayesha Shroff's favorite fitness routine is weight training, and she swears by it to improve her flexibility and mobility. It also helps in keeping her happy, stress-free and motivated.
Pro-tip — "Eliminate sugar from your diet, and eat in proportion."
Special courtesy : Mid-Day.com