1. Use a metallic marker for nail art
For a precise and mess-free nail art design, use a metallic marker on the base coat and lock the design with a top coat.
insta: @thebeautydept
2. Apply dry shampoo at night
Wake up with voluminous bedhead hair by applying dry shampoo the night before, so the powder soaks in completely.
web: joannagoddard.blogspot.in
3. Use a flat iron to curl your hair
Start with small sections and pull them through your straightener the usual way. Once you reach ear level, start twisting the iron in the opposite direction to get bendy waves.
web: glamrs.com
4. Make your mani mess-free
Apply Vaseline around your nails using cotton buds. Doing this makes sure the polish doesn't stick around. After applying lacquer, just wipe away the extra.
web: charisadarling.com
6. Organise your hair ties
If your rubber bands are scattered all over the house, use a karabiner and fill it with all your hair ties.
web: hippie-hugger.blogspot.in
7. Master the (easy) smokey eye
Highlight the area with a light eyeshadow, like white or cream.
To instantly brighten eyes, use the same shade or sparkly shadow in the inner corners of the eyes.
Apply a darker shade to give more definition.
Apply the colour of your choice on lids.
On the outer V, apply the darkest shadow and then blend between the highlight and crease to avoid harsh lines.
web: pbandjapparel.blogspot.in
8. Cover your dark circles better
Use concealer in a triangular pattern below your eye instead of dotting it. This shape helps conceal any redness at the bottom of your eyes, and also on the sides. Twitter: @glossdaily
9. Spritz some hairspray on your bobby pins
This will transform them into sticky pins with better grip that won't slide down.
web: lesicons.wordpress.com
10. Fake those falsies
To make your lashes appear fuller and longer, apply a coat of mascara, then dip a cotton swab into baby powder and brush across every lash. Top it up with another coat of mascara, which will stick to the powder and give you fuller lashes.
web: make-up.allwomenstalk.com
11. Use a spoon to curl your lashes
Place the curved edge of a spoon right above the top lashes. Then lightly press your lashes with your fingers against the edge to mimic the clamp of an eyelash curler.
web: cosmopolitan.com
12. Put an end to split ends
There's a super-easy way to get rid of your split ends. Part hair into small sections and twist each section to create a spiral. Use scissors to snip the ends that are poking out. web: wikihow.com
13. Master the French mani
For a pro-like French manicure, use a rubber band around your nail tip to help you create the perfect line.
twitter: @lifehacks
14. Put your toothbrush to braid use
Use a toothbrush to add texture to a braid by lightly brushing it against the direction of the plait. The result is a rough (but chic), lived-in look.
Twitter: @mybeautymatches
15. Curl your lashes and apply eyeliner together
Apply a thin layer of eyeliner to your lash curler before curling for a line of colour on the lids.
web: sugarscape.com
16. Make your polish dry faster
To add speed to your polish routine, soak your nails for a few minutes in cold water. This helps set the paint so you won't have smudges.
TWITTER: @heyybeautytips
17. Prevent your eyeliner from breaking
Stick your liner in the freezer for 15 minutes and then sharpen. This will harden the pencil so it won't break easily (especially in summer).
INSTA: @carmenclaireco
18. Try brush art with a wand
Use an old mascara wand to create abstract nail art.
web: intothegloss.com
19. Use tape for geometric nail art
For designs like stripes, triangles or zig-zags, use tape to help you create crisp lines. First, apply the base coat you want, and let it dry completely. Cut the tape in the shape of the pattern you want, and apply firmly to the nail. Fill in the stencilled area with a contrasting shade, and then slowly remove the tape while the polish is still wet. Finish with a top coat once the polish is dry.
web: blog.birchbox.com
20. Carry cotton buds to touch up your scent
Forget bulky fragrance flacons. Spray your favourite scent on a few Q-tips and touch up by running the tip over your pulse points.
web: topdreamer.com
21. Revive your dry mascara
Don't pump your mascara too much to get more on your wand, as it will pump air and cause it to dry up quickly. Instead, fix clumpy mascara by adding a few drops of lens solution into the tube, which softens the mascara liquid.
web: listotic.com
22. Make your scent last longer
Apply Vaseline to your pulse points before spraying your perfume to make the scent last longer.
web: fragrantica.com
23. Use clear tape for cat eyes
Align the edge of some tape with your lower lash line, tracing for perfect application. INSTA: @hudabeauty
24. Try this bobby pins hack
Use your paper clip holder to store all your hair pins.
web: www.trusper.com
25. Clean your hair dryer with a toothbrush
To get rid of all the gunk in your blow-dryer vent, use an old toothbrush to scrub all the areas you see dirt in—the bristles will just gather it all up.
web: snappyliving.com
26. Flake away dead skin with a toothbrush
Exfoliate your lips by first applying balm over your lips, then using a toothbrush in circular motions to slough off dead skin.
TWITTER: @real_beautytips
27. For the perfect winged liner, trace a line first, then fill it up.
Follow the six easy steps above.
web: theberry.com
28. Conceal your dark circles with red lipstick
Sounds crazy, but red lipstick is a great primer to cover dark circles or spots. Dab some under your eyes, then top up with your foundation or BB cream. The red colour will even out purple-ish tone dark circles.
INSTA: @lindsayslovelylashes
29. Make your own glitter polish
Crush up a sparkly eyeshadow you never use and mix it with a clear nail polish for your own custom shade.
web: dailymakeover.com
30. Tame frizzy hair with hand cream
If you run out of smoothening serum, use a hand cream instead for some quick-fix moisture. But don't overdo it, as it can get greasy fast.
web: hair-styling.wonderhowto.com
31. Make your eyeshadow pop—just use white eyeliner as a base!
web: make-up.com
32. Wash your greasy bangs in the sink
To get rid of the greasiest part in a hurry, just wash the front section of your hair in the sink with just some shampoo (no conditioner) for fresh bounce.
web: refinery29.com
33. Avoid eyeshadow fall out
If your shimmery eyeshadow gets messy, use a tape to remove any excess shadow below the eye.
web: bronzeandblush.blogspot.in
34. Try an SOS eyeliner
If you run out of eyeliner and you're in a hurry, use mascara instead. Just rub an eyeliner brush over the mascara wand, then line your eyes.
web: waishishang.com
35. Wrap cotton around your nails to remove stubborn nail polish
Soak the cotton ball in nail polish remover first and wrap it tightly around your fingers. Wait for about three minutes for the polish to slide right off with the cotton ball.
Twitter: @sheknows
36. Make yourself a custom eyeliner
Mix eye drops with your shadow to create liquid liner.
web: shape.com
37. Snag some quick curls
To curl your hair fast, create a ponytail at the very front of your head and split it in two parts. Curl two sections and then release the pony from the elastic and shake out the locks. Spray your hair with some hairspray for extra hold.
web: floridianweddings.com
38. Tackle long-lasting or waterproof make-up with this
For matte lipsticks and stubborn eye-liner, massage some olive oil over your lids and lips to remove the make-up. Bonus: it replenishes your skin, too!
web: make-upfornoobs.com
39. Whiten your nails with toothpaste
If dark nail polish has made your nails yellow, scrub them with some whitening toothpaste.
web: gizmodo.com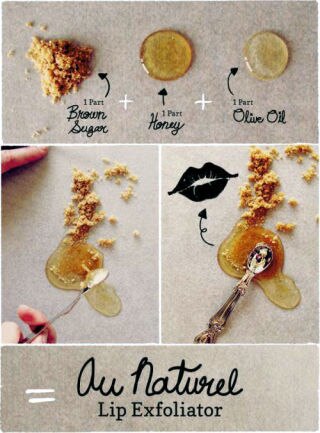 40. Make your own Lip Exfoliator
insta: @thefancyfrancy​