​My love affair with base is a serious one. We'll probably get married because even though my natural skin isn't too bad, I'm totally addicted to what a good foundation does for me...evening out tone, brightening the skin, and creating a flawless canvas for whatever makeup comes next.
If you're still searching for your foundation soul-mate, I can understand it's a tough task. There are so many options sitting on the aisles these days, and they all come with so many promises. Luckily, I've tried most of them, and sorted through the good and the bad.
With beauty brands adding new products to their range every month, there are still a few foundations to go through (which means there might be a Part 2 to this story), but with my current experience, here are five foundations I use, love, and recommend...
1. Clinique Beyond Perfecting Foundation and Concealer, Rs 3,100
I almost didn't try this one because the sample I received was one shade darker than my skin. So the bottle lay on my bathroom shelf for 3 months before I decided to give it a go. And boy, am I glad I did. Clinique's Beyond Perfecting is a foundation and a concealer, which means the coverage is next level! This semi-matte base went on smoothly (it comes with a convenient swab applicator), and barely needed a few seconds to blend (except on my forehead, which is drier than the rest of my face). This baby will cover every blemish, dark circle, redness, and spot, and the result was a flawless face with a natural glow. Funnily enough, even the wrong shade ended up matching reasonably well!
PROS: Offers superior coverage so even if you've got problem skin; it'll cover all blemishes quickly. The swab applicator makes for a hands-free application.
CONS: The consistency is thick, so if you've got very dry skin, blending may take a big longer.
2. Lakme Absolute Mattreal Skin Natural Mousse Foundation, Rs 700
In the past, I've disliked soufflé textured foundations. They've always been too drying, and left a cakey film visible from even 5 feet away. Not Lakme's Mousse Foundation, though. I was introduced to the product by Purnima Lamba, Head of Innovations at Lakme. Her skin looked amazing, and when I asked what she used, she told me about the Mousse. I tried it the next day, and ended up buying 3 more pots subsequently. Because unlike its acquaintances, Lakme's Mousse Foundation is feather light. I mean, literally melt-into-your-skin light. It took me under 15 seconds to apply, and my skin looked and felt incredibly soft. And while the formula is mousse-to-powder, there wasn't a dry, crepe-y finish in sight! Bonus: my skin stayed that way for over 7 hours.
PROS: Fills in lines, pores, and acne pits for an even finish. Application is super-quick, and the (very stylish) pot packaging means you can scrape out every little bit of the product. Offers a matte finish.
CONS: Available in only 6 shades (though the colour matching is really good, and manages to 'fit' most skin tones). Perfect for when you want a matte finish (not so much if its 'dewy' you're after).
3. Chanel Perfection Lumiere Foundation, Rs 3,550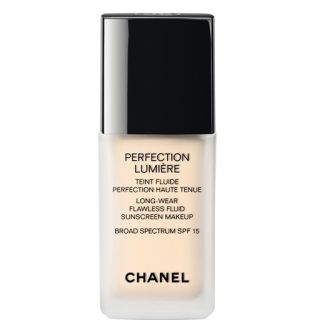 I fell in love with Chanel's Lumiere Foundation after photographs emerged from an evening when I was wearing it, and I realised my skin had never looked better! You know when your skin looks healthy, and flawless, and glows at just the right angles? That's exactly what Lumiere did for me. Oh, and did I mention that at this point in life, my skin wasn't looking so fresh? I'd just had an allergic reaction to an antibiotic, so everything was blotchy and blemished and red...and yet it looked so good! My only concern? It became a little patchy around the driest parts of my face (like around the nose), but some primer fixed that problem in a jiffy.
PS: instead of rubbing it into the face, dab/pat it with your fingers for a flawless finish. Also, this foundation dries fast, so you need to work quickly.
PROS: Gorgeous, light, dewy finish...skin actually looks 'healthy' after application. So natural, it doesn't look like you're even wearing makeup.
CONS: It is heavily scented, which might bother the sensitive nosed. Better suited to combination/oily/normal skin than the very dry.
4. Lancome Miracle Cushion Liquid Cushion Compact, Rs 3,200
There's a reason why so many beauty editors around the world are raving about this particular foundation...because it's pretty darn amazing! For one, the casing is unique—a compact shape with a 'puff' applicator, sponge-like base saturated with the product, and mirror for easy application. What you do is press the 'puff' on the foundation soaked sponge, and then dab it on your face. The result is incredibly dewy-looking, glowing skin...the kind that gets you compliments. Bonus: it leaves your skin hydrated.
PROS: Perfect for those who want medium-to-light coverage and a moisturised, glowing finish. No highlighter needed!
CONS: If you're looking to hide marks and scars, this may be too 'light'. Also, not ideal for oily skin types.
5. Revlon ColorStay Makeup, Rs 875
How much do I love a product that does what it says on the bottle? A lot, that's how much. Which is why Revlon's ColorStay foundation is on this list...because the colour really does stay. This high-coverage base is easy to blend, and once it's on, will stay put. Even in humid, July weather! Bonus: this product comes in two types: Normal/Dry Skin and Combination/Oily Skin, which means you can choose according to your skin needs. The only problem? It needs to be applied with a light hand or it can look cakey (I recommend using a damp sponge or beauty blender to apply, for a gorgeous, dewy finish).
PROS: Lasts long, affordable, and comes in many shades so you'll likely find one that matches.
CONS: Can look cakey if you're heavy handed. Also, if you've got a major pore problem, skip this...it may emphasise them.​