Bob haircuts have been all the rage for the past few seasons. If you're wondering whether to adopt the look, you'll be pleased to know this shorter cut is surprisingly versatile.
We asked top hairdressers for their advice on how to style your bob like a pro!
French braid quiff
Even if your hair is bob-length, you can still rock an updo, as Julianne Hough demonstrates. To get her look, start by applying mousse to damp hair before blow-drying, advises Maria Galati, Head of Education at Taylor Taylor London. 'This will give the hair some hold,' she says. Next, split the hair into two even sections from ear to ear. Loosely French braid the top section (or get an expert friend to do it for you!), creating a quiff effect, and secure with pins. Then, pull the bottom section of the hair towards the back of your head, and secure in a low messy knot, fixing with hairspray.​
​Soft kinks​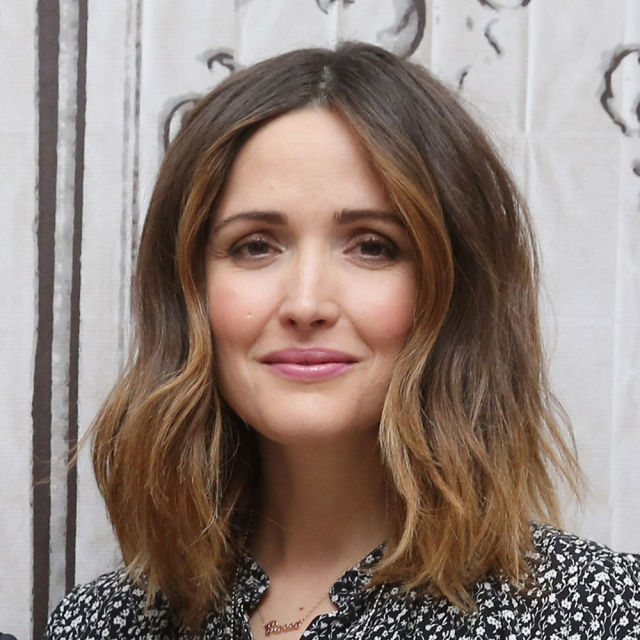 Rose Byrne has been a champion of the 'lob' (long bob), and here she wears it beautifully with a single soft wave. 'This is a relaxed look and works well for the day time,' says Maria. 'It's also very on-trend, and suits all face shapes.' To get the look, start by parting just-washed hair in the centre and blow-dry with a big, round brush to smooth out the hair. 'Then, take random sections of hair, twisting them with your straighteners first one way and then the other, before brushing through and adding sea-salt spray,' says Maria. ​
Naturally undone​
This style from Taylor Taylor London's collection is very pretty and simple to achieve – you just need some rollers! Apply a volume-enhancing mousse to damp hair, then blow-dry with an extra large round brush and set each section in a large roller. 'Once the hair has cooled, use a soft brush to brush through and shake well,' says Maria. 'Then finish with shine spray.'​
​Beehive updo​
'To create this look from our collection, start by brushing hair to one side with a low parting,' says Maria. 'Then, take small sections around the crown and backcomb the roots, adding soft height.' You can spritz on some dry shampoo at this stage to make your backcombing more effective.'Next, use your hands to scoop the top section of the hair backwards, then twist the end and secure using pins. You can cover these with a beautiful accessory like a big gold hair slide,' says Maria.
Boho braids​
Sienna Miller's look takes her boho vibe to the red carpet, and is a clever way of dealing with a fringe as it grows out. 'To create this cute braided bob, tousle dry the hair while spritzing in a sea-salt spray,' says Ken Picton, director of Ken Picton Salon. 'Then, create a soft middle parting and take a horseshoe section on the top.'Starting at the front of the hairline, split the hair on one side into three sections. Then, over-directing from the centre parting to the edge of the section, do an over the top scalp braid,' says Ken. 'This creates a really soft braided cornrow. Secure with a band, then repeat on the other side of the head, ensuring the braids are balanced. Finally, slightly twist through the hair with straighteners for a tousled wave.'​
​Rock chic​
Susan Sarandon can do no wrong in our eyes, and wearing her bob with a dishevelled, lived-in feel puts her bang on trend.'Start by applying full-volume mousse, then blast the hair dry,' says Ken. 'Take one to two-inch sections and, using straighteners, start at the roots and twist through the hair, keeping the styler pointing downwards.'Continue to twist around the whole head, taking sections in different directions,' says Ken. 'Finally, rake your fingers through the hair to tease out those waves.'
Relaxed updo​
Style queen Diane Kruger manages to look polished but not too 'done' with this cool updo. James Taylor, from Barrie Stephen Salons, says you should prep the hair by roughly drying it with mousse, before loosely waving the hair with a medium tong to add texture.'Next, braid one side of the hair, securing at the back with an invisible elastic,' says James. 'Gather the hair from the other side of the head and begin to work that into the braid at the back, pinning into place. 'To finish the look, pull some hair out through the front to soften the style, and re-curl the ends,' says James.​
Super smooth​
Rose Byrne does it again with this sleek but voluminous take on the bob.To copy her look, start by working a heat protection cream or spray through the hair, before blow-drying with a medium to large round brush. 'Encourage movement by lifting the hair from the roots as it dries' says James. 'Smooth the hair under on the ends to frame the face.'James advises finishing the look with straighteners, and adding a spritz of hair spray to the root area to maintain that lift.
Mega-watt curls​
How glamorous are these full-bodied curls from Ken Picton's collection? He advises blasting the hair dry with full-volume mousse to prep your mane, before spritzing one-inch sections with dry hairspray and curling with a barrel tong.'Pin each curl to your head until it cools, then remove all the pins and, with a pure bristle brush, tip your head upside down and brush through the hair,' says Ken. 'This creates a light, bouncy wave, giving a completely different look to the bob.'
Tousled twist​
This style works well on Nicole's naturally curly hair, but you can achieve the necessary texture by drying your hair using a diffuser, says Richard Ashforth, creative director of SACO.'To style, section off a large triangular panel from the crown to above the temples,' says Richard. 'Tip the head upside down and begin to twist lengths into the centre, beginning in the nape and working up towards the crown. Use pins to secure as you go, tucking any excess lengths inside the twist at the top. 'Gently backcomb the top lengths at the roots, then use your fingers and a brush to dress these lengths into the completed twist at the crown' says Richard. 'Finish with hairspray.'​