There is a new president in France, and we cannot get over his love life!
Emmanuel Macron is 24 years younger than his wife, and the incoming French president is exasperated that people keep talking about it.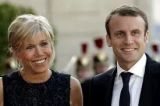 Discussing the assumptions and rumours about his relationship his wife, Brigitte, Macron spoke up in an interview this week that "If I had been 20 years older than my wife, nobody would have thought for a single second that I couldn't be".
That being said, our fascination with their age gap is 100 percent positive. We admire his breaking of stereotypes and commitment to the women he loves. More power to you, Mr. President!
It's a sentiment many French women seem to relate to. Some suggested that the Macrons' marriage was social "revenge" for years of powerful men seeking younger wives.
Check out some pictures of them together.