1. Shahid Kapoor and Priyanka Chopra
They were once the 'it' couple of Bollywood. Shahid and Priyanka first acted in Vishal Bhardwaj's Kaminey — that's when the rumors of their relationship kindled. Let's just say, a certain 'someone' was found at PeeCee's apartment during an income tax raid and obviously, that led to speculations! Later, they acted together in Teri Meri Kahaani as well. But, their relationship ended right after the release of their sophomore project.
2. Hrithik Roshan and Kangana Ranaut
Do we need to say anything? Their relationship started back in 2009 while shooting for Kites. Later Kangana tried keeping her distance from Hrithik and even declined the offer for Krrish 3. Kangana's recent tell-all interview exposed the dark and lesser known facts about their relationship and let's just say, this 'war of words' will not settle down anytime soon. So we can forget about seeing them together!
3. Akshay Kumar and Katrina Kaif
2006-2010 was the time this super-hit pair gave blockbusters after blockbusters. Their on-screen chemistry was so good that they took over every possible gossip column. From movie promotions to award functions, Akshay-Katrina were seen together everywhere. Well, Mrs. Funnybones didn't think all this was funny anymore and a FULLSTOP was put to all their future collaborations. Their last release was Tees Maar Khan, released in 2010.
4. John Abraham and Bipasha Basu
How many of you still remember their first movie together, Jism? Their hot chemistry was loved by the audience. After delivering some unforgettable movies, their onscreen chemistry started fading away, but that doesn't mean it affected their off-screen status. John-Bipasha were a fan-fave couple for almost a decade, till the time they were in a steady relationship, before calling it off thanks to a patchy breakup due to 'undisclosed' reasons.
5. Varun Dhawan and Alia Bhatt
After giving three super-hits together, 'Varia' (that's what their fans call them) does not want to work together anymore. The duo is a perfect (and the only) successor to SRK-Kajol. Oh, how we ship them together! It is reported that their mentor Karan Johar has adviced them to not work together for a while and maintain distance from each other to keep their 'onscreen' spark alive. Well, who would disobey the "movie-mafia" (hey! we didn't coin the term) who launched them in the industry in the first place?
6. Akshay Kumar and Priyanka Chopra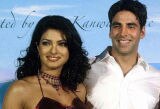 Akshay Kumar and Priyanka Chopra is another onscreen couple we want to see again on the screen. Priyanka did a lot of movies with Akshay when she started her career. They were tagged as the hottest onscreen couple and their sizzling chemistry was pure fire! The media couldn't help but spread rumors about them and Mrs. Funnybones wasn't amused again. #PeeCeeOut!
7. Abhishek Bachchan and Rani Mukherjee
The two actors were once getting married to each other. But apparently Abhishek's mom Jaya Bachchan didn't give a nod to their relationship and put a hold to their marriage — and also their movie collaborations. Remember the quirky con rom-com, Bunty Aur Bubbly? We're sure you do. Well, we doubt if you'll see something like that again.