Bollywood, it seems, has been bitten by the commitment bug.With Virat and Anushka getting married (pause for a deep sigh) and whispers of a Sonam Kapoor-Anand Ahuja wedding, all eyes have been fixed on Bollywood's favourite couple Deepika Padukone and Ranveer Singh, and boyare things heating up there as well!
After news of wedding bells and extravagant birthday celebrations, rumour has it that the couple is buying a holiday home in Goa, and guess what, they're buying it together!
That's right, the duo is said to have bought a home together , and apparently it's everything a dream holiday home should be.
"A luxury residence has been recently picked up by the two jointly, in the same area that also has Raghuram Rajan and Sunil Gavaskar's homes," was the report given by a source close to the couple.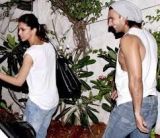 Incidentally, Deepika's father Prakash Padukone had already given his consent to their relationship.
Hmmmmmm......we are guessing Bollywood is headed for another celebrity wedding this year... what say?