There's no doubt— Koffee With Karan throws up some of the sassiest B-town responses (some we'll remember foreva-eva). There's something about Mr Johar that really brings out the candidness in even the most careful celebrities.
Now that KWK has completed four sensational seasons, we can't wait to see what comes next. Here's a throwback to the most scandalous moments on the most controversial talk show on Indian television.
When SRK Had The Most Hilarious Response to Karan's Question
When Sonam Kapoor Revealed What Good Actors Look Like ( snarkily, of course)
When Ranbir Kapoor and Imran Khan Started Bromancing in The Middle of the Interview
When Bipasha Gave it Back to Kareena For Dissing Her Then Boyfriend, John, In a Previous Episode
When Ranveer Revealed Way Too Much About His Bedtime Habits
When Arjun Kapoor Taught Us the Importance of Sex
When Alia Bhatt Knew More than 2 States
When John Proved Dostana Wasn't Over For Him
When Anurag Kashyap Wanted to School Kareena on Her Movie Selections
When Priyanka Had an Oh-No-She-Didn't Comeback to Kareena's Earlier Question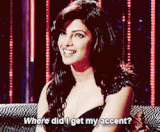 When Varun Dhawan Proved He Could Only be a Fictional Student of The Year
When Sonam and Deepika Ganged Up Against Ranbir
When Zoya Akhtar Showed a Special Interest in Kangana Ranaut
Follow Nikita on Twitter.