Amid intensifying fervor over this year's royal wedding of Prince Harry and Meghan Markle, one local government official in England is causing controversy due to his over-zealous plans to ensure the town of Windsor is in picture-perfect condition for the big day — and for the influx of tourists that comes with it.
Simon Dudley, council leader of the Royal Borough of Windsor and Maidenhead, wrote a letter to the Thames Valley Police asking them to resolve what he has called the "epidemic of rough sleeping and vagrancy in Windsor." In the letter he describes occasions when homeless people forced tourists to ATM's to withdraw money amongst other "aggressive begging and intimidation" tactics. He also tweeted that his office just can't "deal with this."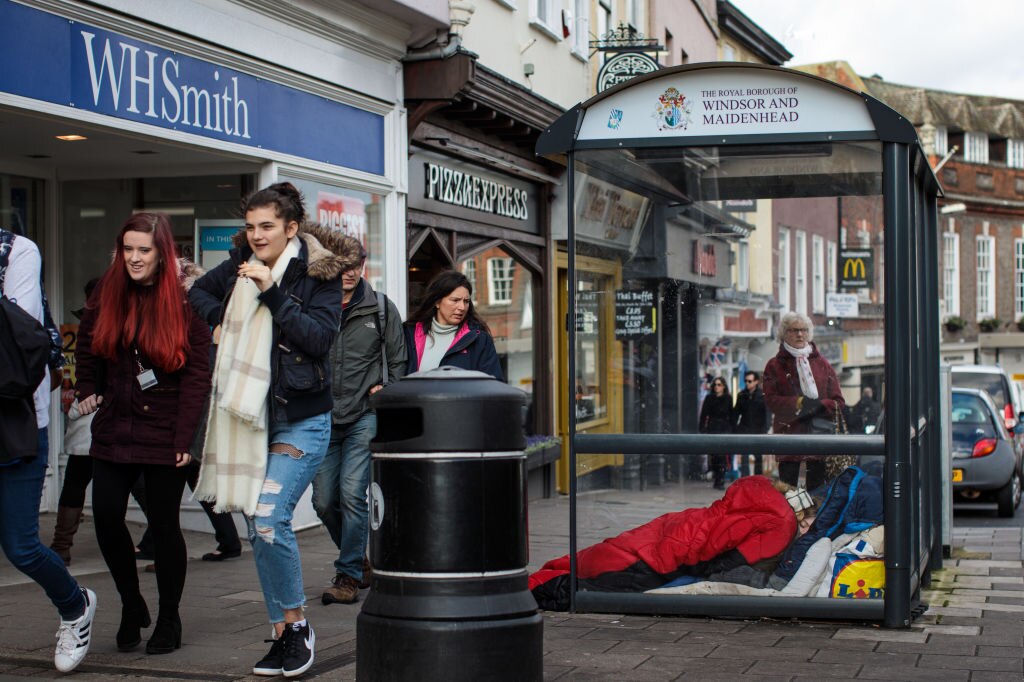 [image id="33604c92-a937-4f5b-8abe-4205edabc1f3" align="C" size="M" share="true" caption="A homeless person sleeps in a doorway opposite Windsor Castle (and next to a pub named the "Duchess of Cambridge") on January 5, 2018 in Windsor, England." expand=""]
Since there are believed to be only eight homeless people living in Windsor, this scare-mongering news has come as a shock to many. Yet, Dudley insists they are removed from the streets before the wedding.
"Obviously, the level of tourist interest is set to multiply with the royal wedding in May 2018, and there are increased concerns from our residents about their safety," Dudley said in his letter. "The whole situation presents a beautiful town in a sadly unfavorable light."
Many have since argued Dudley's perspective paints the town — well, at least one of its residents (i.e. him) — in just as "unfavorable light." Even British Prime Minister Theresa May, who also received Dudley's letter, spoke out publicly, saying that she disagreed with Dudley — and that councils must ensure there are accommodations for the homeless.
It is not believed that Harry, Meghan, or any member of the royal family (or their staff, wedding planners, would-be guests etc. etc.) had raised any concerns about Windsor's homeless population. The royal family have a track record of helping the homeless and bringing awareness to the widespread issue by working with charities like Centrepoint — Prince William has even sleeping on the street to understand what it's like.
"Harry is the most common out of all the royals and helps out poor people," said James, a homeless man in Windsor. "I don't think he had anything to do with this."
Update 1/10: Dudley issues an apology for connecting the city's homeless issue with the royal wedding and says Windsor should provide better housing options for homeless people. "I wouldn't have put a hashtag in a tweet that said Royal Wedding. I would not have done that. I think that allowed people to look at it in a certain way when it really wasn't about that," he said on "The Andrew Peach Show" on BBC. He went on to say, "'It wasn't the wedding, it was the fact that the situation is deteriorating, clearly, and in my view, and consulting with other colleagues as well, is something which is going to get worse given that there will be more people there."