Ranbir Kapoor, the golden boy of Bollywood who makes women weak in the knees . Oh, did we mention he's a great actor as well?Watching him make his way through Bollywood as a young , energetic,sensitive and controlled superstar , we can't help but admire him for the way he handles his life in the limelight. Here are a few pointers we can all take from Ranbir , to help us live our own lives successfully as well.
1.Compete only with yourself : Ranbir says he is not here to beat anyone , only to keep bettering himself and work with great directors in the process.
2. Create your own success , don't depend on family laurels : Belonging to Bollywood royalty and being the grandson of Raj Kapoor , Ranbir worked hard and showed the world he was a good actor in his own right , proving his success was not due to his Kapoor lineage.
3.Keep your private life , private : Even though he is always in the limelight for his love life and alleged relationships with Deepika Padukone and Katrina Kaif, Ranbir does not talk about his personal life to the media .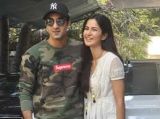 4.Use your failure to inspire you to work even harder : Even though he is known an excellent actor , Ranbir had a recent string of flops . However , he worked even harder with his next films , not letting his temporary failures get him down.
5. Give your all to your work : From going completely in character for Barfi and Rockstar , Ranbir works hard to give rock solid performances in difficult roles , dedicating his life to his work.
6. Keep your family close : Ranbir listens to his parents ,and maintains a strong bond with his family who are his support system through ups and downs.
7. Believe in the power of love : Even with his recent broken relationships, Ranbir is very clear that love is important to him and it is the one extraordinary thing he strives for in his life .
8.When it comes to your image ,less is more : Quiet , controlled and a man of few words , Ranbir does not believe in flamboyance or tooting his own horn. He lets his good looks , poise and acting speak for themselves.