1. Shah Rukh Khan – A Vanity Van
He literally, bought the most expensive 'vanity van' in Bollywood, at a staggering cost of Rs 4 Crore. It has some amazing technological amenities, that will give you that out-worldly experience, that everybody needs when getting their makeup done, obviously.
2. Raj Kundra to Shilpa Shetty – An Apartment In The Burj Khalifa, Dubai
Probably the world's most expensive anniversary gift – dotting husband, Raj Kundra gifted Shilpa Shetty, an apartment on the 19th floor of the tallest building in the world. Maybe the view was really worth all the money.
3. Karan Johar to Katrina Kaif – A Super-Super Luxurious Car
We cannot stress the words, super-luxurious enough, to define this car. But why would Karan Johar gift Katrina Kaif, a car? Well, remember Katrina's famous 'item' song, 'Chikni Chameli'? She basically made the cameo for free, and Karan was so touched by the gesture, that he went a tad bit overboard, and gifted her an extravagant car.
4. Salman Khan to Jaqueline Fernandez – Hand Made Paintings
Before you jump to any conclusions, let us tell you that, it was just a friendly gift. Salman is known to have a keen passion for painting, so much so, that some of them cost Rs 2.5 crore! And he actually gifted one of them to Jacqueline, as a token of her incredible performance in Kick.
5. Salman Khan to Alvira Khan – A High-End Penthouse In Mumbai
Salman is clearly very gracious with his gifts, especially when it comes to family. Known to be a total family man, Salman gifted his sister, Alvira Khan, a luxurious penthouse in Mumbai, worth Rs 16 Crore! Wow, we wish our brothers would do that. *Hint, Hint*
6. Shah Rukh Khan to five crew members of Ra.One – Fancy AF Car
Shah Rukh actually bought cars worth, 1 crore each, for five of his crew members! Even though his ambitious film, Ra.One, didn't do so well at the box office, it didn't stop Shah Rukh from giving his crew (including, Rajnikanth, Arjun Rampal, and Anubhav Sinha) a very thoughtful, but extravagant present. That's some commitment.
7. Katy Perry to Russell Brand – A Ticket To Space
Katy bought her then- fiance, Brand, a ticket to space, costing approximately Rs 1 Crore.
Since, the couple have divorced, it's not clear what happened to the ticket, but we won't be surprised if Katy, still wants to send Brand to space.
8. Paris Hilton – A Villa For Her Dogs
Paris, spent approximately Rs 2 Crore on a villa for her dogs! It's two stories high, and comes with a balcony, a black crystal chandelier, mini designer furniture, heating, and air-conditioning!
So yes, it's probably wayyy nicer than your home.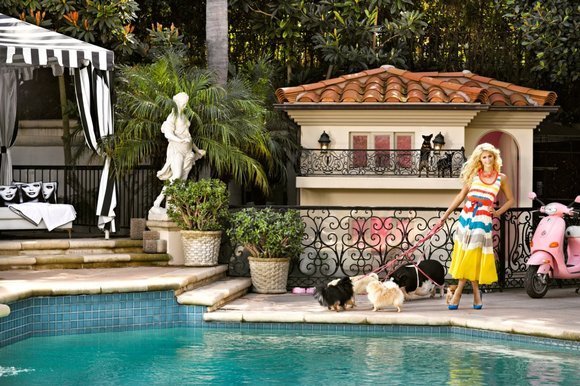 9. Celine Dion – A Humidifier
So you're probably thinking, what's wrong with a humidifier? But we aren't talking about any old humidifier, but a Rs 12 Crore humidifier! Celine, had the Caesars Palace in Las Vegas, install a very expensive humidifier, to protect her vocal cords, in the harsh desert climate.
10. Donald Trump – A Gold Bathroom
Why can't the President of the United States have a gold bathroom? But, he actually installed a gold bathroom in his super-expensive jet, worth $100 million. Apparently, the jet wasn't enough to make him look wealthy, so he added a bunch of golden features, including a gold-plated sink.
11. Beyoncé – Gold Leggings
Now what's the need for gold leggings? And especially leggings that cost, Rs 64 Lakh! But, obviously Queen B needs to look her best, and she can't have anything short of gold leggings. She even sported them during her performance, at the 2007 BET Awards.
12. Victoria Beckham – A Gold Plated iPhone
Victoria, only wants the best of iPhones. She spent approximately, Rs 23 Lakh, on a gold-plated iPhone, designed by Stuart Hughes, and made of 150 grams of 24 carat gold.
She got it a few years ago, so we aren't sure if she decided to keep it, or switch for the iPhone 7.
13. Beyoncé – A Diamond Encrusted Barbie
The most extravagant gold leggings for Beyonce, and obviously the most extravagant Barbie in the market, for Blue Ivy. Beyonce couldn't settle for any old, off-the-shelf Barbie for her daughter. So she went all out to get Blue Ivy, a custom Barbie for her first birthday, worth about Rs 54 Lakh.
14. Miley Cyrus – A Luxurious Car For Her Dogs
Paris and Miley, seem to share the same, wild, and extreme love for their dogs. While many spoil their furry friends with new toys and treats, Miley shows a whole other level of love, and bought her dogs, a luxurious car.
So that you know, the dogs can drive along down Hollywood Boulevard.
15. Lady Gaga – A Ghost Detector
It's Lady Gaga, so why doesn't this surprise us? She bought a ghost detector worth, Rs 32 Lakh.
Because you know, ghosts don't knock.