It Took a Full Glam Squad to Get Aishwarya Rai Out of Her Van For the Cannes Red Carpet
No, we aren't kidding!
Aishwarya Rai stunned everyone with her appearance at Cannes 2017 red carpet. She looked completely magical in a Michael Cinco gown. But there's a lot that goes behind her stunning appearance on the red carpet. Apparently, it took an entire army to get her out of the van, walk the red carpet and climb the stairs.
Fans were curious about how Aishwarya managed to walk and sit in that majestic dress. Well, it def wasn't an easy task for her to be a real time Cinderella.
One of the Aishwarya's fan page on Instagram uploaded a video of her struggling with her incredibly voluminous gown and how there was an entire team just to help her walk and make an iconic appearance.
Here have a look: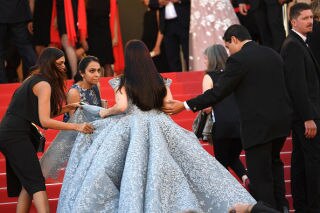 [twitter ]https://twitter.com/AishAtCannes/status/865787410210336769[/twitter]
[twitter ]https://twitter.com/Catestyy/status/865613935742988288[/twitter]
Images: Getty