Katrina Kaif and Ranbir Kapoor have never tried to hide their love-hate relationship. After their break-up (which left many Katbir fans devastated), the duo have clearly had trouble getting along.
Fans were overjoyed when they came together to shoot Jagga Jasoos, however their clap-backs, and negativity seem to be making headlines every other day. Just the other day, Katrina admitted that she could never work with Ranbir again.
And now they're back at it, in an extremely awkward interview with VJ Zerxes Wadia, on MTV Insider. Is it just us, or is there crazy tension between the duo? Let us know what you think.
It all started with this very-simple, completely normal question, by VJ Zerxes, "Why don't you tell me about the relationship between Jagga and Shruti?"
Katrina started off, answering the question, 'I think both the characters are very unusual, but at the same time they're not all perfect, they're very real...'
But before she could complete herself, Ranbir mansplained her, and finished answering the question.
Katrina did not look amused, and she would definitely not let Ranbir have his own way. So she swooped in and gave him some subtle sass.
Ranbir clearly didn't get the hint, and continued explaining his side. At which point, Katrina had clearly had enough and mimed slapping her forehead, visibly irritated.
For his second-last question, Zerxes asked the duo, what it was like to come together for the film.
Ranbir said, "I just want to... you know... better her in any which way possible as a human being and as an artist, as an actress, as a star." During which, Katrina kept shaking her head, rolling her eyes, and silently mouthing, "unbelievable, shocking."
Eek, that's awkward.
By the end of it, Katrina was just done with Ranbir.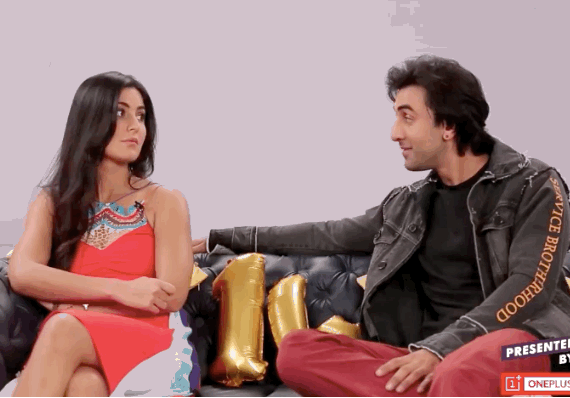 Watch the full interview here:
[youtube ]https://www.youtube.com/watch?v=5CUz5xngZXE[/youtube]