1) His take on being a protective father
"No, I am not protective at all. I may talk or behave like that. You feel like protecting them, but you can't lead their lives for them, right?"
2) When he was asked if he gives relationship advice to his children
"I give relationship advice to no one. I think you should not give such advice to anyone. Because every relationship is different, every f***-up is different, every happiness is different. You should just let everyone be. Yeah, sometimes, in a fun, gossipy way, you can talk about somebody else's relationship, but I think, as weird, conservative or wild as a relationship may be, it's perfectly all right. You should not judge it. I have heard of some really awkward ones and maybe you get a little surprised, but if it suits them, it's fine."
3) On his equation with his son, Aryan, who is soon turning 20!
"I'm a really cool father. When I am with Aryan sometimes, we just lay down in our shorts without our shirts and we crack some dirty jokes. He gets really excited telling me about gaalis he's learnt. I'm from Delhi and I've also been that age and my vocabulary of Hindi gaalis is fantastic (smiles). So when he tells me one, I tell him that I'll teach him another version of it. So that's cool. We talk about getting into trouble, picking up fights, how to beat up the other guy or answer back when a guy messes with you. "
4) On Suhana's career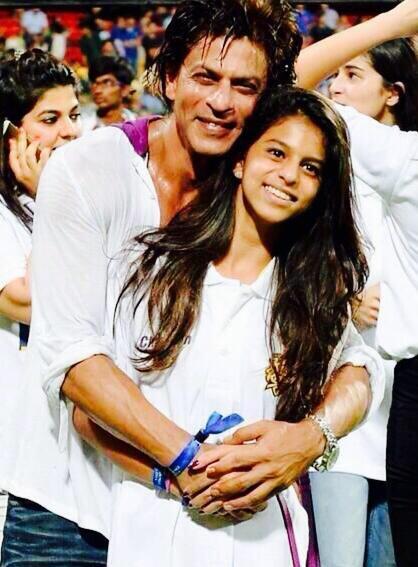 "Suhana wants to be an actress. I see that zeal in her. She's extremely good on stage, I've seen her performances. But my point is simple — you need to complete your education before doing anything. That's the only thing I have told my children. Otherwise, they are free to be in the film industry, not be in it and do whatever they like. I will be supportive of whatever they want to do."
5) "And AbRam is my little monster."
"AbRam is extremely protective of me. There are times he watches somebody hit me on screen and he thinks it's for real. So, the next time he meets them, he gives them dirty looks. He did that with Kajol after Dilwale because of that one scene during the interval. I think he loves being around me. On my birthdays, he would just come out to the balcony every hour. The fans keep screaming my name and he comes running to me and says, 'Papa, peoples have come. Let's go meet them'. He calls them 'peoples' and then, he drags me out because he enjoys waving out to them. He's a smart, intelligent kid and extremely fun to be with. And with him, I become a kid myself."