Two of Bollywood's most popular superstars—Shah Rukh Khan and Salman Khan set off to a great start—and shared an enviable camaraderie. Their relationship has always been a constant roller-coaster ride, which includes one of the most ugliest spats that Bollywood has ever witnessed. However, the two seemed to be close once again, and one can't help but think about their friendship graph!
Here's a quick breakdown of it, in seven incidents, which are totally worth a mention!
1. Salman was five years senior to Shah Rukh in the industry and has gone on record to admit he was always very fond of him.
Not only did Salman harbour affectionate, brotherly feelings for SRK, considering him a part of his inner circle, but Shah Rukh too respected and revered him a lot, often addressing him as 'Sir'. Shah Rukh would frequently hang out at his pad, and the two were pretty tight.
2. After their first movie as the main leads(Karan Arjun), this hit duo could never be cast again as no producer could afford both of them. Individually soaring in their respective careers, Salman and Shah Rukh would occasionally grace each other's films with special appearances and cameos, as a gesture of their friendship.
For example, Salman's guest appearance in Kuch Kuch Hota Hai garnered a lot of attention, and his was a key role in the film. Similarly, SRK returned the favor in Har Dil Jo Pyar Karega in 2000 where he appeared just before the interval.
Not just that, Salman Khan (with his family in the likes of Arbaaz Khan and Malaika Arora) was also a part of the multi-starer song sequence in Shah Rukh Khan's hit film from 2008, Om Shanti Om. It was a historic moment when all the Bollywood stars converged to show their solidarity for Shah Rukh and Farah Khan, including Bollywood's fave—Salman Khan!
3. After a bitter fall-out during the making of Chalte Chalte, the duo was evidently wary of one another and would avoid even talking about each other. Interestingly, when they happened come face to face again, during director Farah Khan's sangeet ceremony at Hyatt Regency on December 9th, 2004—something happened which rekindled their lost love!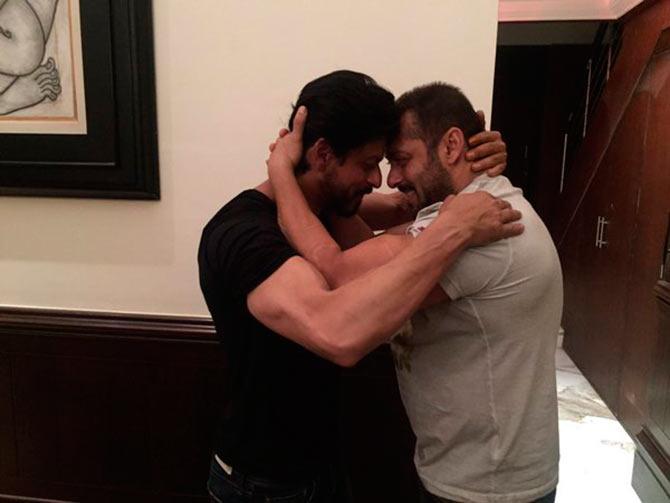 Incidentally, Salman who was sipping his drink with his friends in one corner of the ballroom, saw Shah Rukh dancing with his gang at the party. When the event was drawing to a close, Salman suddenly came towards Shah Rukh and hugged him tight. The ice melted and Shah Rukh responded as affectionately. Both of them embraced this moment with tear-stricken eyes, and felt their long-lost friendship re-kindle. Moreover, after the event the two partied at Salman's Galaxy Apartments till the morning after!
4. The uncertainty in the bonds of their relationship flourished further when they both started hosting their individual game shows on rival channels on television. While Shah Rukh started his much hyped show Kya Aap Paanchvi Pass Se Tez Hain from April 25, 2007, Salman came on to the scene with Dus Ka Dum June 6, the same year.
However, SRK's show failed to make its mark on the viewers, and was almost on the verge of a shut-down, whereas Salman's show sky-rocketed with TRPs. Unaware of the probable brewing animosity, Salman invited Shah Rukh to his reality show as a guest, and was shocked to receive an outright refusal, despite their intimacy.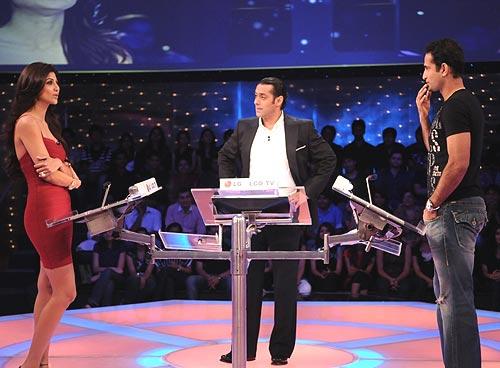 Although, sources claim that Shah Rukh was restricted by certain sponsors, who didn't want their star to feature in a reality show on a rival channel. This led to the beginning of a rift, yet again.
5. What happened next, is something that made its way to one of the biggest scandals in Bollywood. That historic night of 16th July, 2008—when Katrina Kaif threw a party in celebration of her birthday at a restaurant in Bandra West. The two got into the biggest spat that Bollywood ever witnessed, which effectively broke them apart for too long a time!
It was not Salman but Katrina who had invited Shah Rukh and Gauri at her birthday party. Everything was fine as Salman and Shah Rukh stuck to their respective corners on two opposite sides. Salman hung out with his family, while Shah Rukh was chilling with his wife, Gauri.
Witnesses revealed that at a particular point in the party, Salman started abusing Shah Rukh's reality show in front of others, saying that it was "screwed", fully aware that SRK could hear him very well. Shah Rukh responded with a cocky answer, and the matter died down until Salman again triggered the topic, gesturing towards Shah Rukh, who retorted with a below-the-belt remark this time (something uncomplimentary about Aishwarya Rai).
Something that begun as a trivial banter, went on to threats and abuses as well as hints of a violent physical broil being hurled at one another—unabashedly and mercilessly, ultimately leading to Gauri Khan literally dragging Shah Ruk out from the party, and Aamir Khan rushing to cool down Salman. Later many Bollywood celebs tried to clear the misunderstanding between the two, but to no avail.
Letting bygones be bygones...
6. These foes have reportedly turned friends now, and there have been numerous incidents recently, which hint that their camaraderie from their initial days, is being re-kindled. For instance when Yash Raj films released a making video of the Sultan song, 'Baby ko bass pasand hai' which featured the duo together! Apparently, SRK was visiting the sets, and was clicked hugging Salman, before heading for a quick exit! Awww...
7. Their cold war seems to have visibly ended as they seem to be exceptionally nice to each other. Whether it is SRK's gesture of pushing his film's release date ahead to avoid a clash with Salman's Sultan, or Salman sharing the trailer of SRK's film Fan—the two seem to have evidently moved on! Not just that, the two were even spotted cycling together in the wee hours of the morning, their picture captioned 'Bhai-Bhai' going viral!
How did this happen? Well, reportedly, SRK called Salman to catch up with him, while he was at some brand event, and the two shared a dinner together. Post that, they chatted all night, before they headed for an early morning cycle ride on Salman' suggestion. Now that is just too cute!
Recently, Salman Khan gifted Shah Rukh Khan a brand new luxury car, which has just launched as a token of his appreciation for his guest appearance in Salman's film, Tubelight. Not just that, the two will share screen space in a special dance sequence in SRK's upcoming venture with Anand L. Rai!
Well, what next?