Two brilliant actresses from the same generation—Rani Mukerji and Aishwarya Rai ruled the silver screen for a long time, but they never let that fact brew any form of rivalry between them, quite contrary to the 'cold-war' equation that actresses were infamous for, especially at that time.
In fact, back then, when Rani was quizzed about who her fave actress is, she said, "From my generation, Aishwarya and Preity Zinta."
On being asked about her equation with Aishwarya, she further added, "We are always civil to each other. If I see her, I'll definitely wish her. She's a fabulous actor from my generation."
But, things didn't remain rosy for the two, for very long. All Bollywood buffs know the drastic change of events, that led them to eventually fall apart.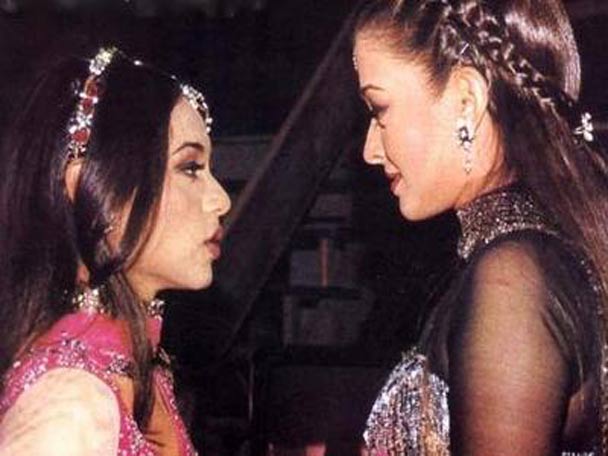 For starters, that time when Rani had replaced Aishwarya in Chalte Chalte, because Aishwarya's then boyfriend Salman Khan had created a major scene, destroying property on the sets of the film. Aishwarya was reportedly hurt, not only because SRK (who she thought of as a dear friend) had sacked her from the film, but because her replacement Rani too, was a close ally. Clearly, she felt betrayed by her BFFs.
Secondly, when Aishwarya got married to Abhishek Bachchan, who was once allegedly in a strong relationship with Rani, and rumours were rife of their union. However, it was shocking to her and many others, that her once "close friends" had not even invited her to their wedding.
In an old interview, when asked about thoughts on the same, Rani candidly confessed, "Only Abhishek can throw light on that. The truth is that if a person chooses not to invite you to their wedding, you realise where you stand with the person. You may be deluded and think you are friends but maybe the friendship was only restricted to being co-stars on the sets. However, it doesn't matter now. It became very clear and evident that we were only co-actors and not friends. Moreover inviting someone to a wedding is a personal choice. Tomorrow when I decide to get married, I will choose the handful of people I want to invite."
A few years ago, when Rani tied the knot with renowned filmmaker Aditya Chopra in a private wedding ceremony in Italy, there were very few people from the industry who were invited, and no points for guessing, who DID NOT make it to the wedding invite list!
A Hint at Renewed Ties?
But, there might be a faint hope of revival of this long-lost friendship that couldn't stand the test of time. Earlier this year, Aishwarya Rai Bachchan lost her father, and one of the many people who visited her, was her old friend—Rani Mukerji. Yes, the actor chose to let humanity pervade over bygones, and supported her old friend through a tough period, which speaks volumes about her character.
Maybe, they both chose to take the high road after that incident, and the two rekindled ties after their bitter fall-out. We can just wish them the best!