1. Aishwarya Rai and Abhishek Bachchan
Ever since this couple tied the knot, they have bombarded us with major #RelationshipGoals. Be it Abhishek's immense social media PDA every time Aishwarya would walk down the red carpet which is adorable AF, or their statements that are oozing with the love and effortless camaraderie that they share.
[instagram ]https://www.instagram.com/p/BUSACfxBlqe/[/instagram]
However, just once the couple seemed to not be on the same page in front of the paparazzi,creating a moment that left the gorgeous Aishwarya severely red-faced in! While the entire Bachchan family was attending the premier of Aishwarya's film Sarbjit, and occasionally obliging with family photos. Suddenly, Abhishek Bachchan out of nowhere, abandoned Aishwarya while the couple were posing for the photographer, leaving a shocked Aishwarya behind! Even though, minutes later she continued to pose, and tried to pull off an unperturbed demeanour, her distress was clearly visible! Oopsie.
[youtube ]https://www.youtube.com/watch?v=lCM60zv5keA[/youtube]
2. Kangana Ranaut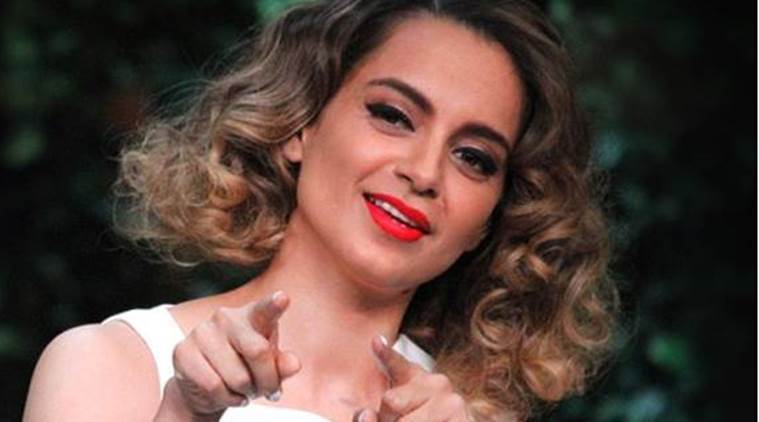 Confidence is great, confidence is...sexy. Nothing is more appreciated than when a woman is confident in her skin, and is unapologetic-ally herself. Kangana Ranaut, one of Bollywood's finest actors, who is an epitome of the same—created a foot-in-her-mouth situation by being a tad bit overconfident, blatantly calling herself out as superior to her contemporaries in this statement, during the release of her film, Queen. She said, "I started from 'B grade films' and today I'm the number one actress of this country... whereas other actresses, whom you might call my contemporaries, they have had no growth in whatever platform they were launched... they are still there and have not risen to another platform."
3. Deepika Padukone
Bollywood star Deepika Padukone made her debut appearance on The Ellen DeGeneres Show and in a candid confession, spilled the beans about her equation with Hollywood actor Vin Diesel, who was her co-star in her debut Hollywood movie—xXx:Return Of Xander Cage.
[youtube ]https://www.youtube.com/watch?v=CD67bwUQgtE[/youtube]
When the chat show's host, Ellen DeGeneres, asked her about the secret behind their onscreen chemistry, Deepika sportingly replied,"well, there is no smoke without fire!"
"But, it's all in my head! So yeah, I mean in my head I think...we are together and we have this amazing chemistry, and we live together and we have these amazing babies! But it's all in my head," she added.
What was intended in a fun, candid way to express a star-struck crush on a Hollywood actor, was blown way out of proportion on the pretext of being "inappropriate", as Deepika was in an alleged relationship with Ranveer (we wonder when those two would come out in the open about it!), and rumours were rife that Deepika's comments, and growing fondness for Vin was not very well-received by Ranveer!
4. Anushka Sharma and Virat Kohli
Looks like celeb couples tend to have more fights over being clicked on the red carpet than one would normally imagine! Just like Abhishek and Aishwarya, the much-in-love couple, Virat Kohli and Anushka Sharma were also caught on camera, in an awkward space where they had a mini-disagreement over being clicked, at celebrity designer MAnish Malhotra's 50th birthday bash. Have a look at the video to see, and you won't miss the expression on Anushka's face once they melt away into their car, away from the prying eyes of the paparazzi.
[youtube ]https://www.youtube.com/watch?v=Pbe0b4EW5Rs[/youtube]
5. Ram Gopal Varma
Consider yourself lucky if you're not acquainted with a director in Bollywood called Ram Gopal Varma, you ain't missing out on much. He was infamous for his controversial statements, but this one dig(?) at a veteran actress was just wayyy out of line, and just plain awkward! We couldn't make much sense of his words, TBH.
"My advice to Boney is to read my full article in "Guns and Thighs" on Srideviji before spewing venom on me. I as a fan have more respect for Srideviji than what Boney has for her as a wife. Srideviji's fame is not only because of her acting capacity but it's also because of her thundering thighs. If only acting talent is a measure for stardom then why wasn't Smita Patil bigger than Srideviji..The thunder thighs made the difference. I respect Srideviji for her thighs, her smile, her acting talent, her sensitivity, her persona and above all I respect her love for Boney!"
Every body else was just like... say whaaa?
6. Sonam Kapoor
Despite the fact that her convoluted statement made little sense, one can clearly make out her obsession with 'age'. Sonam, famous for her uncontrolled tongue and super-controversial statements, had once called Aishwarya Rai an aunty, which was obviously not very well-received. Then came this statement, which was again a dig at her colleagues who lied about their age.
"I have never lied about my age. Most of my contemporaries are of my age. Well, some of them are lying about their age. Except for Alia Bhatt - between Shraddha Kapoor, Deepika Padukone, Sonakshi Sinha and me, there must hardly be a difference of a year or two. Look at Kareena Kapoor and Priyanka Chopra. I am talking about the generation before me! They are still in their prime. I don't think age matters anymore."
Uhm...
7. Varun Dhawan
This one is more hilarious, than awkward. When Varun Dhawan compared his upcoming film Dilwale with Christopher Nolan's film Inception, a movie that was mindbogglingly —a class apart, the country probably broke out into peals of laughter.
"Have you seen Inception? Understood it? Liked it? Then you will like Dilwale. There is a lot to our film. There is a plot, story and is logical and is a full on 2015 film which has a lot of twists and turns."
Really Varun, really?
Source : Dazzling News