1. When Kareena was reportedly upset that Deepika was cast in Love Aaj Kal instead of her, as was promised by the director, Imtiaz Ali (who also directed Jab We Met). In an interview back in '09, Deepika was quoted supporting Kareena's cause.
"Kareena was never on the sets even once when I was shooting with Saif, because, she is not the type of girl who is insecure about her man. Kareena knows that she is brilliant as an actress. If I were in her place, and I was not cast in my boyfriend's film, even I would have felt the same like Kareena, if she felt that she should have been the leading lady opposite Saif in Love Aaj Kal and not me. Just because her boy friend is the producer of the film and Imtiaz Ali who is the director of the film is her favourite director, after she worked with him in Jab We Met, she did not demand that I should be replaced in Love Aaj Kal by her."
2. After that, when Deepika co-starred with Saif (Kareena's then boyfriend and current husband) in films like Aarakshan, Cocktail and other looming projects, rumours were rife of her apparent insecurity about their proximity. On that note, Deepika gave a statement during a promotion spree for Cocktail —
"Well that's her insecurity I can't do anything about that. But we've had no problems. In fact, when she came to London, we got along well. We went out one night. She was on set and watching the shoot even in Hyderabad. As far as I know, there is nothing wrong. I don't think she has anything to worry about."
When Kareena was asked about that, she was super-sarcastic about her alleged insecurity and waved off all rumours by saying that she loved the attention showered on her beau.
3. We get to see Kareena's snarky side towards Deepika on her BFF Karan Johar's popular chat show Koffee With Karan. While answering a rapid fire question on her BFF Karan Johar's popular chat show Koffee With Karan, she was asked what would she do if one day she woke up as Deepika Padukone. To that she bluntly replied,
"I dont think I can wake up as Deepika as I can't relate to her."
4. Kareena is widely infamous as an actor who has unconsciously, rather out of her impulsiveness to opt out of a movie, has given other contemporaries blockbuster hits of their careers. Especially, when Kareena rejected Rohit Shetty's Chennai Express and Sanjay Leela Bhansali's Ram-Leela, she gave Deepika Padukone her career's best movies. When quizzed about that, Kareena said at least she helped her rivals add some good films to their kitty —
"I confess that I'm mad. There have been times when I've signed a film and then felt it was wrong. Yes, I was supposed to do 'Ram-Leela' but I changed my mind. I decided to do Gori... instead. With me, it's all about the mood. There are no regrets, I've worked with some really good directors. I've missed the chance to work with Sanjay Leela Bhansali. But there's always a next time. I'm the only actress who can boast of giving films to other actresses."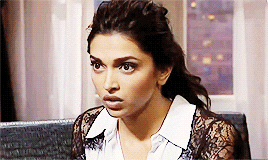 5. When Ram-Leela turned out to be a huge success, Kareena appreciated Deepika's work and talent, and congratulated her in an interview, back in '13.
"Deepika is talented, and she continues to do good work. I have seen her work. She is a brave actress, and that's a good sign because I like brave actors. In fact, I have never regretted not doing any film. Deepika deserves every bit of this success… she has worked really hard to get where she is. My only advice (to her) would be, 'Enjoy every moment,' because that's just the way it goes."
6. The Pandora box of gossip and controversies, Koffee With Karan gave us another instance when the heat between the two actresses of Bollywood was evident. Seated on the Koffee couch, Karan Johar asked Deepika what would have been a good alternative career option for Kareena Kapoor. Quick as lightening, she said "Charity." A stupefied Karan, and an equally baffled Priyanka realised later, what she actually meant.
Deepika without stating the obvious, gave Kareena's jibe (when she said "I'm the only actress who can boast of giving films to other actresses") a fitting reply by saying that she should indulge in more 'charity'—of leaving films for others, as it helps other actors carve their niche in the industry. Oooh burn!
7. Whenever the media and tabloids compared Deepika with Kareena, she would openly lash out and say that a comparison was baseless, since Kareena was technically her senior as she had ventured into Bollywood much before her. When Kareena was questioned regarding the same, she was quoted saying,
"I think she is absolutely right. I don't know why everyone is compared to me. But now I am like, okay fine. I have become immune to it now. Fifteen years and now, I think I should be immune to it by now, at least."
Her sass and contempt at the comparison could not be more evident!
8. But quite contrary to her original savage self, Kareena has surprisingly toned down her sass a bit and is usually full of praises for her fellow actors. She praised Deepika's acting in Piku.
"I haven't watched Piku or Tanu Weds Manu Returns but I've been told they are entertaining and the girls have given amazing performances. I don't expect anything less from Deepika or Kangana. They both are powerhouse actors. I'm happy they are doing good work."