​When you're one half of the most genetically blessed couple on earth it's no surprise when your wedding is freaking gorgeous, but nothing could prepare us for the heaven on earth that was Sofia Vergara's wedding to Joe Manganiello (thanks for posting all those instas for our viewing pleas-ure, guys).
Despite it being the world's most amazing celebration (yes, we're talking about that beyond adorable video of Joe serenading Sofia with Sweet Child of Mine), the real star of the show had to be Sofia's wedding dress – it was NEXT LEVEL!
The custom Zuhair Murad Couture design was super intricate, strapless and basically the stuff of fairytales. Speaking to Vogue, the designer said "It's a fitted dress because we wanted to see her beautiful curves but at the same time there is the removable outerskirt so later on she can remove the ball gown skirt. We wanted something very spectacular and grandiose."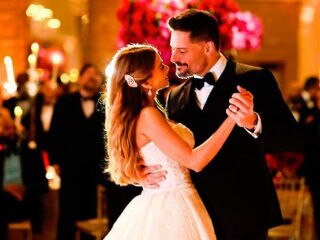 Spectucular is an understatement for this stunning dress (which did perfectly show off those curves). The gown included five kilos of sequins, three kilos of pearls and 350 crystals and took 32 employees and 1657 hours to make. Woah!
Apparently it was no trouble for Zuhair Murad who gushed "She deserves it". Ah, if only someone would spend over a thousand hours crafting a dress this perfect for our wedding (preferably to Joe Manganiello) #goals
We'd be sporting this cheeky grin too!
Related: Sofia Vergara and Joe Manganiello's Wedding Invitation is INSANE