There are several reasons why the world is collectively crushing on Prime Minister extraordianaire Justin Trudeau, including the fact that his response, when asked why he made half his cabinet women, was, "because it's 2015", he was the first Canadian Prime Minister to march in the LGBT pride parade and looks adorable with baby pandas.
But in case these reasons were not enough (what are you made of? Stone?), maybe this picture of him slaying this mayurasana (or the peacock pose) with his amazing yoga skills will change your mind: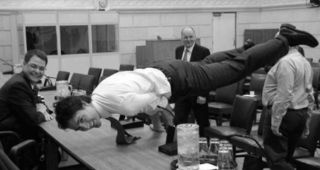 Originally this was clicked in 2011 and posted online by freelance photographer Gregory Kolz in 2013, but this photo went viral when Toronto based yoga teacher David Gellianeau posted it on Facebook.
[twitter ]https://twitter.com/gregkolz/status/715367052505190402[/twitter]
Seriously, the 'Why Justin Trudeau is Basically Perfect' list just keeps getting longer.