1. She had us at the Kenzo sweatshirt...and the Birkin, which was created especially for the airplane!
2. A checkered shirt, tights, and that Chanel bag. Easy chic all the way!
3. We love how great she looks in them wide-leg jeans. And that bird print shirt...love!
4. The stylish sisters on the go...and who can doubt Karl Lagerfeld?!
5. An easy breezy ethnic outfit is always a great choice for long haul flights.
6. Love how that whole look has come together.
7. We like how Kareena keeps things interesting. Case in point: distressed jeans paired with this polka-dotted shirt.
8. Sweatshirts are a great way to combat the unearthly airplane temperature. And if it's a slogan sweatshirt, even better!
9. This star-print shirt is giving us very stylish dreams!
10. Donning the biggest trend of the season—​stripes—​Mrs Khan looks oh-so-stylish in this look.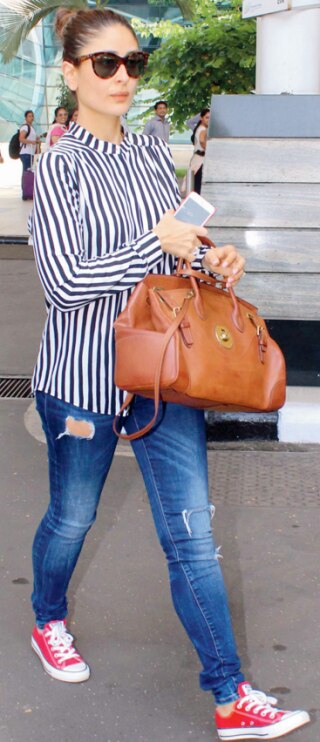 11. Oh where do we even begin talking about this look: that sweater, the arm candy, the sunnies and those boots...fabulous is the word.
12. Distressed denim and sneakers for the win!
13. Oh, wouldn't it be amazing if we all could wear our jammies and flip flops all day long.
14. Flared pants really flatter Kareena. By pairing it with this summery lemon tee and that tan bucket bag, the look is practical yet chic.