Post Udta Punjab (and its roaring success) the girl has been KILLING it (if her Insta account is any proof)...
On the14th of June, she posted a picture of an Amul advertisement, protesting the censorship of her movie Udta Punjab, which was due for release the previous Friday.
On the 17th of June 2016 she posted this picture of her singing the song IKK Kudi from her upcoming movie with co-actor and singer Diljit Dosanjh.
She also celebrated the film's release with these delish desserts , tagging her trainer to make her do lots of cardio post indulgence.
On Monday , 20th June Alia was clearly in a gratitude state of mind...
She also posted this happy group picture with a bunch of friends and crew members.
On Tuesday 21st June she posted this super cute pic with co-star Kareena Kapoor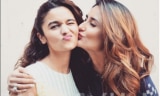 She also slayed her workout routine on Tuesday , posting pics of her control and balance-core workout (you go, girl!).