Q) The designer I'd happily wear for the rest of my life is...
A) Dolce & Gabbana
Q) The wildest thing I've ever done on set is...
A) faint!
Q) The one handle that's always fun on Twitter is...
A) OMG Facts and Epic Women.
Q) The character I've played that's most like me in real life is...
A) Neha from Dostana and Roma from Don.
Q) The b*tchiest thing someone's ever said about me is...
A) 'how does she survive with all the choices she makes!' But haters gonna hate, potatoes gonna potate!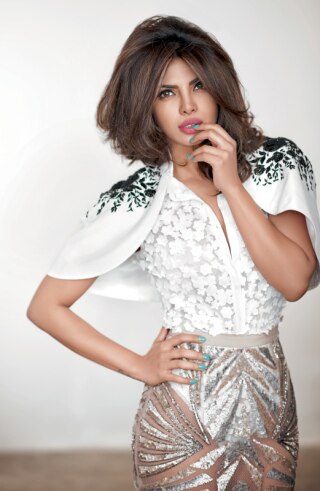 Q) One thing Parineeti and I have in common is...
A) spunk
Q) I'd kill to..
A) sing a romantic duet with Jay Z.
Q) One app that I can't live without is...
A) Twitter, Insta and Math 42.
Q) One thing I only do when nobody's watching is...
A) oh, I'm always being watched.
Q) My fitness secret is...
A) clearly eating whatever I want! I have to stop binging!
Q) I love/hate being called Piggy Chops...
A) Love. Though I do think it's time for a new nickname now.
Q) If I could be remembered as just one thing, I'd want it to be...
A) an entertainer.
Q) My break-up ritual is...
A) soulfood, music, and my BFF—preferably all together!