#1. Mrinaal Chablani (Priyanka Chopra)
Mrinaal has been PC's manager for over 10 years, and the actor considers her a part of her fam now. Not only does Mrinaal absolutely love her job, she looks forward to all the travelling it brings with it. Since Priyanka is always busy shooting—for her Quantico, completing her schedule for Bollywood back home, or sneaking in ad shoots and magazine covers in between—Mrinaal manages it all like a total boss.
#2. Pooja Dadlani (Shah Rukh Khan)
Being the manager of one of Bollywood's biggest superstars is not a cakewalk, but Pooja has been handling this responsibility pretty well. She has been SRK's manager for a really long time, and apart from handling all his Bollywood schedule, Pooja also oversaw the branding for SRK's IPL team, the Kolkata Knight Riders. She's a #MultiTasker, isn't she!
#3. Susan Rodrigues (Ranveer Singh)
Handling a celeb as enthusiastic and spontaneous as Ranveer Singh requires the same level of energy. Susan, who's only been working as a celeb manager for the past four years, is one of the most sought names in the industry. Interestingly, Susan wanted to be an anthropologist, but ended up working for YRF instead.
#4. Runali Bhagat (Arjun Kapoor)
Runali, who's worked as a fashion stylist for reality shows for nine years, decided to switch to celebrity management. She currently handles Arjun's Bollywood schedule, and considers travelling as one of the best perks of her job.
#5. Poonam Damania (Kareena Kapoor)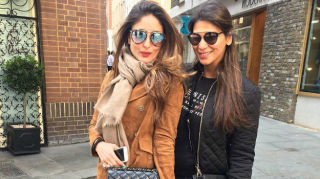 Kareena shares a special bond with her manager Poonam, who's not just her friend, but also her advisor and confidante. Poonam accompanies her on work trips and the duo is often spotted together at her family get-togethers too.