For someone in her late 20s, I can safely say that for (almost) as long as I've been alive, I have heard people (family, friends, acquaintances, friends of friends...you get the drift) go gaga over the Dubai Shopping Festival. The luxury bargains, the gold, the beauty steals, the coolest gadgets...the whole shebang. Though I'd been to Dubai a few times earlier, I never quite got around to experience the shopaholics' paradise. So when I was in the city recently for precisely 72 hours—for once in my life, I was at the right place at the right time—I decided to make every second count. As someone who has a penchant for great bargains, I was told that this was my Mecca.
Since I landed in the evening, I decided to explore the part of the town closer to my hotel. A short cab ride later, I was at the The Beach at JBR. Though it doesn't boast of over a 1,000 shops like at the Dubai Mall (more on that later), it has a great mix of high street and luxury shopping. From local designer boutiques to global designer labels, adventure gear and sports apparel for the outdoorsy peeps to home decor and make-up, whatever you may need, you'd find it there. Since The Beach has an open mall kind of set, there's some or the other activiry almost every other night, making it a generally cool place to just hang out. As for me, after a satiating meal at an Emirati restaurant, I turned in for the day to wake up fresh and take on the Dubai malls like a #boss.
The next day, I decided to head first to old Dubai to check out the very famous gold and spice souks. The straight lane with dozens of stores displaying all things bling and the sheer volume of gold in general was quite blinding. The great thing about the gold souk is that you can bargain (yes!), and there's something for everyone—from extremely elaborate pieces to dainty ones. Piece of advice: it's a great idea to bring your beau to this souk, for they have an ah-mazing variety of engagement rings... A 20-karat diamond on a bargain, sign me up!
Next up was the spice souk, and believe you me, even if you don't have the makings of a Julia Child, you'd want to spend all your money on the exotic mix of spices available here. I'd suggest loading up on flavoured teas and trying out organic Egyptian soaps made with camel's milk (something that I discovered in a teeny tiny shop there).
Next on my agenda was the gigantic The Dubai Mall. To scout for deals in over 1,200 shops, I had to make sure I was armed with two things—a credit card with no limit and sugar to keep me going. I head straight to The Cheesecake Factory, bought myself a slice of the Red Velvet Cheesecake and devoured it while sketching a plan of attack in my mind. Keeping the high street brands as my second priority, I went straight to the luxury section for the kill. And don't worry about your wishlist, there ain't no brand in the world that isn't here. And with this-season stuff from Dior to Chanel to Hermes and more available on more than 50% off, I was floating in the luxury bubble of my dreams. As I was on a time crunch, I barely managed to check out 20 stores (two percent of what was on offer!)...but I still came out with more bags than I could manage alone. #Bliss. If you have more time, I'd suggest dedicating at least two full days to do justice to The Dubai Mall.
The third and my last day in the city, and I had to make it count. I had heard about the Ripe Market at Zabeel Park (a fresh produce market with the best fruits and veggies on display), so I headed there for a breakfast picnic. What I was amazed to find was an exceptional flea market with everything from clothes to home decor and unheard-of beauty brands from around the world on offer. After a great breakfast and snagging some equally great deals on clothes, I took off for Mall Of The Emirates. This mall is big on high-street brands and boasts of some of the leading designer brands as well. Since I got my fix of the luxe love the day before, I put on my high-street blinders and marched right into Zara, and then H&M, and Victoria's Secret PINK, and Topshop, and...oh, the list goes on.
If you're here with a bunch of friends, there are some great options for entertainment too—Magic Planet, Ski Dubai, the Dubai Community Theatre & Arts Centre. Since I grew up watching Pingu, it wasn't hard for me to pick Ski Dubai over everything else. And let me tell you, it's the bomb! The place is like Gstaad, in the middle of the desert... with amazing rides and a penguin show. If you love penguins, and who doesn't, it's a must-visit!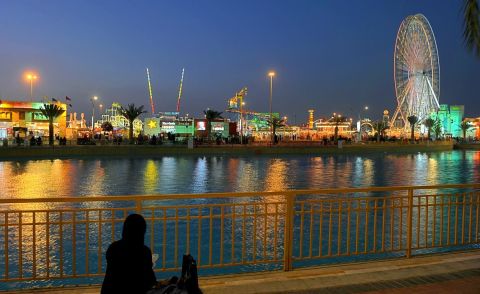 I had reserved my last evening in town for a non-mall shopping experience aka Global Village. With pavilions from over 75 countries, you can literally shop the world. I loved the Syria, Pakistan and Turkey pavilion for the sheer range of stuff available... And if you go to the UAE pavilion, be sure to stock up on oud, it's heavenly! Apart from the incredible shopping and dining options at Global Village, there are concerts, amazing stage shows, and fireworks daily. All this at a ticket price of 15 dirhams (INR267), this was the most magical place and definitely the highlight of my trip.
As I packed my bags to head home, I knew it was time to sign up for shopaholics anonymous... Just kidding. Best three days of my life!