Engrossed in the humdrum of our daily routine—rushing to work in the morning and crashing the minute we set foot inside our home after a long, tiring day—somewhere, we have let our inner hostess take a back-seat and let practicality take over. *Lazily dials Pizza Delivery*
But who says hosting a dinner implies spending a ton of cash or slaving away in the kitchen all day (think: scrubbing dishes)? In fact, there's nothing like inviting a bunch of friends over for good food, drinks and conversation to de-stress in life. With just a few simple tips, hosting an intimate gathering can be hassle-free and loaded with fun. And, with smart technology like the super-convenient Bosch dishwasher, spending hours cleaning those after-party utensils won't be a cause for concern anymore.
1. Choose your circle well
People who share similar interests, or at least have some things in common will be less difficult to entertain. It's important that your guests are at ease and gel well with each other.
2. Prep in advance
Probably the most important step, starting with your party prep a li'l ahead of time goes a long way in keeping things smooth. For instance, it helps to check on your guests for any allergies in advance so that you can plan your menu accordingly and avoid last minute awkward moments. Checking on your inventory well in time will help you arrange for necessary cutlery, raw material for your food and linen that you may need, instead of dashing off to the nearest super-store thirty minutes before your party starts. That's when Sir Panic pays an unpleasant visit, you know.
3. Plan your menu strategically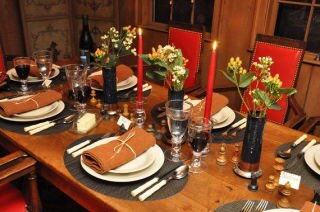 If you don't wish to spend the whole party sweating in your kitchen, avoid a table laden with dishes that need last-minute prep, or exotic ingredients which will take away a huge chunk of your time in just sourcing. Don't forget to get things like chopping veggies sorted a day before. It's important to remember that this dinner party is not an excuse to experiment or display a Pinterest board—it's safer to stick to food you've already mastered cooking and love preparing. A simple, concise and aesthetically pleasing menu will make everyone happy and comfortable. Isn't enjoying yourself the main take-away here?
4. Don't be a do-it-all
This is where many people goof up. Hosting a dinner doesn't mean you have to cook each and every item by yourself. Pick up dessert from your fave bakery down the street, sides from your go-to grocery store or set up a mix-it-yourself bar. This also applies to post-party chores. With a handy tool like the Bosch dishwasher at your disposal, you can spend more time catching up with your favourite people, instead of toiling in the kitchen by yourself. If you've chosen the right folks to chill with, they would care more about keeping things easy for you than judge you on your hosting skills.
5. Think about everyone
Designated drivers and teetotallers shouldn't be left wishing they had opted for 'Netflix 'n' Chill' at home. Ensure that there's something for everyone to look forward to. Whip up some kick*ss fruit punches or mocktails for the non-boozers. In fact, to keep things simple for yourself, you could do away with a full bar and keep a signature cocktail for everyone, like a pitcher of margaritas or sangria!
6. Set the mood
Now that your invitees and menu is sorted, it's time to spruce up your pad. Clear the clutter, dim the lights (if candles are too messy, fairy lights will work well too!), and make a playlist instead of just randomly plugging your phone. Don't just assume that catching up on gossips will suffice for everyone. Studies say that upbeat, festive music sets up the tone for drinks, and mellow tunes mix well with a comfy dinner. You could also arrange for some fun games like Jenga or beer pong to break the ice and set the ball rolling.
7. Be smart about cleaning up
You know the worst is here when everyone has left and your apartment, not to mention your kitchen, is nothing but a huge pile of dishes! That moment when all you want to do is flop on your couch and wish that the dishes could magically clean themselves. So be smart about it, and invest in a dishwasher that could take this job right outta your hands, while you catch a snooze. The Bosch dishwasher comes with a new rack to provide additional loading space that accommodates utensils, spatulas, even washes oily pots and pans. What's more, not only does this dishwasher give a super-hygienic wash (by heating water up to 70 degrees Celsius, and killing 99.99% germs) it also uses only 10 litres of water, vis-à-vis the annual 60 litres that goes into washing! The icing on the cake— no pre-rinsing is required. Just remove the leftover and load the dishes!
Hosting at home can be simple and fuss-free, especially if you don't sweat the small stuff. So go on, plan your next dinner party and enjoy that warm feeling when you see your squad engulfed with love, laughter and happiness.