Buda nights! They make my toes curl even now as I relive them in my head. I can see myself standing by the Danube and getting goose bumps. No it's not the cold. There is just a sharp sting to the crisp, cool night air….not enough to make your hair stand on end. It is what lies before me: Eclectic Art Nouveau buildings, offset by a stunning chain bridge, all of this lit up golden, the reflections making gold puddles in the river as the moon plays hide and seek in a partially cloudy sky. Budapest bowls you over with its many moods.
The city's famous baths, fantastic cuisine, funky shops featuring homegrown designs, baroque buildings, pop art galleries and a rocking nightlife all make for a heady cocktail.
15 awesome things you can do in Budapest
1. Walk across the Chain Bridge, the first bridge to connect Buda and Pest. Did you know the climax of Aishwarya Rai's iconic movie Hum Dil De Chuke Sanam was shot on this bridge though they pretended it was Italy! Keep walking. It is a magical city to walk. Take a stroll on Andrássy Avenue to Heroes' Square and you'll understand why Budapest is often called the Paris of the East.​
2. Window shop and people watch on Váci Shopping street and Vörösmarty square. Shop with the locals, buy Palinka and Paprika and eat traditional Hungarian food at the Central Market Hall.
3. Discover the historic Castle Hill on a Budapest tuk tuk! Yes, the very same auto rickshaws that you thought were Bangkok's copyright now come to the cobbled roads of this stunning European city courtesy the trendy Italian scooter company, Piaggio. Every tuk tuk is equipped with a tablet that allows passengers access to a pocket guide, which is an audio tour application, free of charge. You can download this app on to your phone as well. How is that for digi-cool travel.​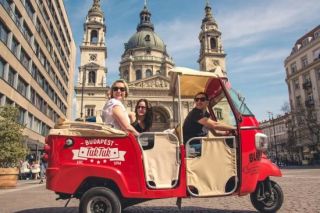 4.Eat potato, cabbage & sausages off roadside stalls. Hungarians do cabbage like few others. Try Café Bouchon Zichy Jenő u. 33., Budapest. Order here baked yang pork with mushed potato and sour cabbages. Delicious.
5. Drink Beer in a beer garden. Budapest is simply an amazing city for open-air bars. The energy is absolutely rocking. If you happen to be there in summers go out, drink, and meet lots of new people! Most of the beers on sale are brewed within Hungary, with some beer being imported from Austria, Germany and the Czech Republic. Try Treffort Kert. The famous university bar, Könyvtár Klub moves out to the open for every summer turning into one of the best drinking spots in the city with cheap drinks, pizza, and lots of students.
6. Eat & learn how to make a strudel at Strudel House. A unique café and restaurant dedicated to preserving the art and tradition of strudel making, Strudel House menu features a variety of both sweet and savory strudel including cottage cheese, apple, sour cherry, and cabbage… Strudel a layered pastry with a sweet or savory filling is a very intrinsic part of Austrian cuisine. It is also a traditional pastry in the whole area of the former Austro-Hungarian Empire.
7. Buy Omorovicza beauty products. The Art of Mineral Beauty and Hungarian skincare is brilliant. Budapest is a city of wellness and spas and the mineral-rich thermal waters of Hungary are well known across the globe ... Omorovicza Cosmetics use this curative, anti-aging power of dissolved minerals in order to provide the benefits of the healing waters as part of a skincare beauty regime!
8. Enjoy a performance at the world famous Budapest Opera House. Stunning is also inadequate to describe one of the most beautiful Neo-Renaissance buildings in Europe. When it was opened in 1884, the city shared the administrative duties of the Austro-Hungarian Empire with Vienna. In fact, Emperor Franz Joseph commissioned its design. You can tour the Opera House during the day and learn about its gorgeous architecture as well as enjoy a world-class performance in the evening.
9. Take a dip and relax in one of Budapest's famous baths. Hungary is a land of thermal springs, and Budapest remains the only capital city in the world that is rich in thermal waters with healing qualities! The city also offers traditional Turkish baths in a style dating back to 16th and 17th centuries. Try Gellért Bath its columned, Roman-style swimming pool is awesome and its location atop the Gellért hill offers stunning views of the city.
10. Take in a beautiful view of the Danube on board of Dunarama water limousine. Stunning views of the Hungarian Parliament, the Castle, Chain bridge all aboard a luxury boat with a two-person staff in elegant uniform. (That the captain and his helper are good looking Hungarian dudes only adds to the fun!)​
11. Visit Hungary's Parliament Building, see the amazing architecture and the Hungarian Crown Jewels. The building, over 100 years old is a magnificent example of Neo-Gothic architecture with splashes of Renaissance and Baroque. The sight of it all lit up at night from the opposite side of the Danube is magical.
12. Try an authentic Hungarian dish paired with vintage Hungarian wine. Try it at Vadaspark Restaurant. Of course there is Goulash , the world-famous soup that is so filling it could easily be a meal on its own. Authentic Goulash is a beef dish cooked with onions, Hungarian paprika powder, tomatoes and some green pepper. Potato and noodles are often added. At Vadaspark you can have a lot of drama and fun with dancers, singers and musicians as you consume some fantastic local food and wine.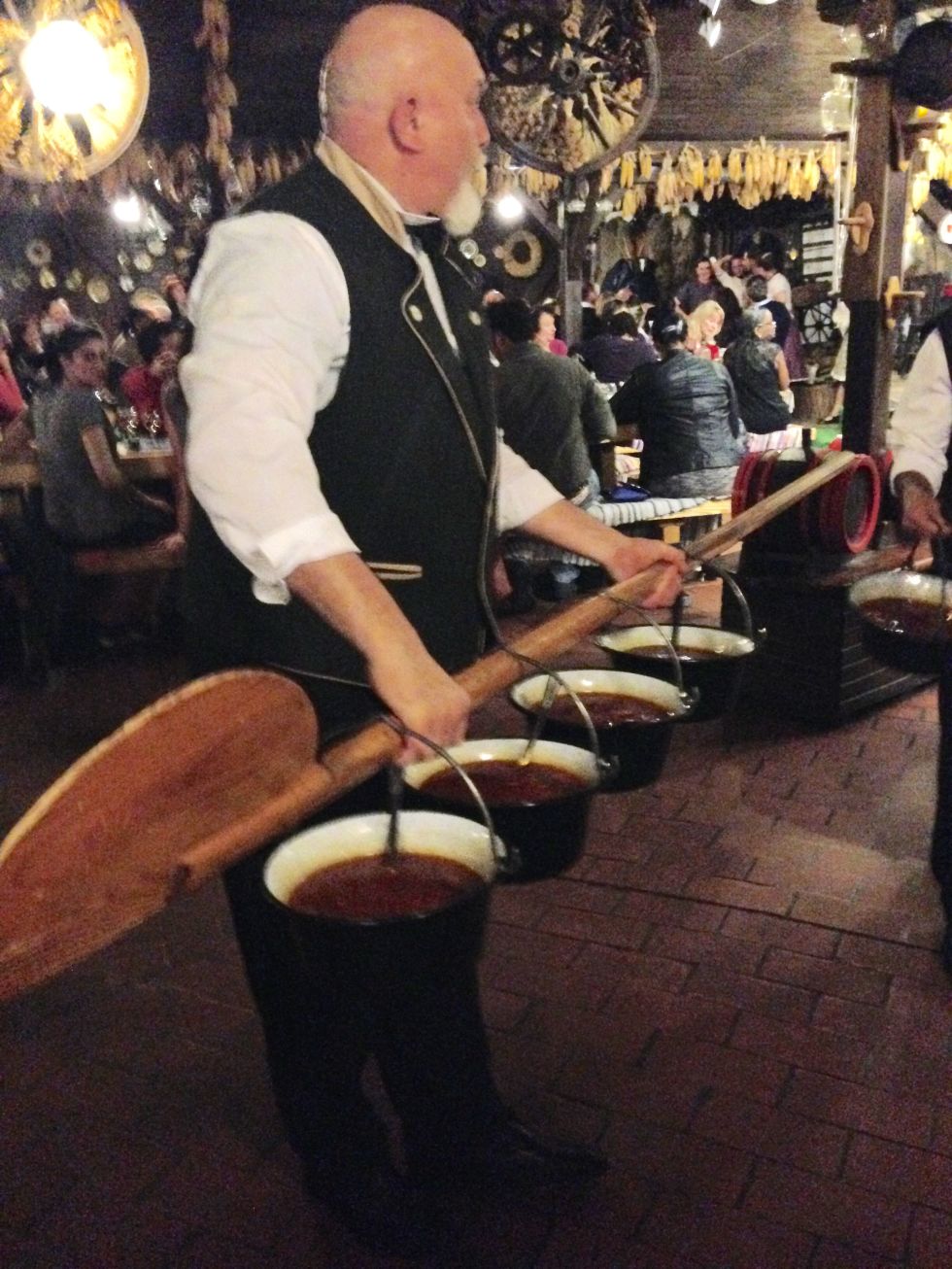 13.Soak in the buzz at a cafe. The very baroque and beautiful New York Café is a great option. Sumptuous Venetian chandeliers produce a magical light, and golden stucco work covers the twisted columns: the effect is enchanting. This space is a precious piece of Budapest and Hungarian literary life, once the offices of the magazine 'Nyugat', legend goes that the famous writer Ferenc Molnár, on the day the café opened, threw its keys into the Danube so that it would never close! Café culture forms the core of everyday life in Budapest. Combine history, architecture, coffee and cakes and you'll get the historic coffee houses of Budapest.
14. Travel the Danube Promenade On Tram Number 2 which goes from Jászai Mari Square all along the Danube until Közvágóhíd. It passes the Parliament building, the Central Market Hall, the Palace of Art and the National Theater. It has been declared one of the top 10 tram rides in the world. One ticket costs 350 HUF. Buy a 24 hour pass (or 1-day travel card) for 1650 HUF (5.3 euros) to stop at the Parliament, Eötvös square, Vigadó square and Fövám square to explore these heritage spaces.
15. This is a city that rocks at night. Budapest's 'Ruin Pubs' are mindblowing… abandoned building have converted into low key clubs for hipsters. Worn out furniture and crazy creativity combine into spaces with amazing vibe that make for all night party hopping. Try Szimpla Kert which has become an iconic hotspot for travelers and great to meet up some interesting locals too.​
By: Ritu Agarwal
Chief Content Officer, Inspired Traveller
A travel writer, editor and curator, the travel bug, says Ritu, found her purely by chance and has traveled a long way with her first to India Today Travel Plus, where she was editor for close to 9 years, and currently with Inspired Traveller a digital platform. Ritu is now giving what it takes to be a travel journalist. Paragliding in Goa made her experience some raw emotions while soaring the skies but she is determined to overcome silly fears and crack bungee jumping soon.