Not every teenager is boss enough at photography to land an exhibition at the Palette Art Gallery on their first try. Welcome to the stylings of Amira Chanana... ​
Cosmo: So, tell us all about your recent exhibition!
Amira: "Oh, what an experience! To show at the Palette Gallery and have my work curated by Rohit Gandhi and Rahul Khanna—wow! The exhibition (called Travelogue) was a collection of moments from my travels that I thought spoke volumes."
C: We notice your photos are always black and white...
A: "I've always felt colour takes away from a frame. In a colour photo, you're too absorbed in the shades to care about what's really happening in the moment. Black and white eliminates that distraction."
C: And there are almost never any people in the frame...
A: "Oh God, no. I don't really look at people—I look at the surroundings, the movement. I don't want to do portrait photography; it isn't me. I think of people more as props than subjects—just one single element."
C: Any iconic photographers you totally love?
A: "Sebastião Salgado; a black-and-white photographer too. His work is grainy and rugged—I find it incredibly real."
C: Give us a tip to take a great photo...
A: "Don't force anything ever—a great moment has to be caught, not created."
Check Out Amira's Serene Sea series...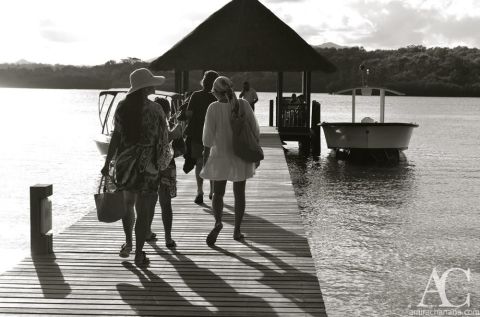 Her Cultural Breeze series...
And her Concrete Jungle series