Sudarsan Pattnaik has done it again!
​His latest sand masterpiece, a 45-feet high Santa Claus, might be the largest one existing in the world right now!
This will be his 9th record making creation, situated at Puri Beach in Orissa, and aims to spread the message of peace in the world when we're plagued with horrific acts of terrorism.
[twitter ]https://twitter.com/sudarsansand/status/680641976375484416[/twitter]
Pattnaik, a Padma Shree awardee, has worked on the sculpture for 22 hours, with help from his students from Sudarsan Sand Art Institute of Puri, with about 1000 tonnes of sand!​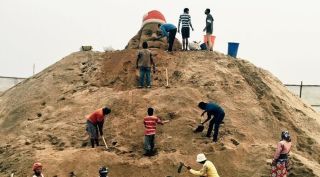 He has 8 records already in the Limca Book of Records, and is aiming for a 9th one with this latest creation!