​There is a certain vibe to Mumbai that is difficult to put into words. This megacity, bursting at its seams brings up so many different images simultaneously! A cacophonic, psychedelic medley of glamour, red carpet, sizzling stars, models on the one hand and of course the labourers, the slums, the fisherwomen, the dreamers waiting to make it big in Bollywood, the underworld and the gangstas …on the other.
The country's financial nerve centre, Mumbai is also it's entertainment and fashion capital. It houses sterling institutions like the Reserve Bank of India, the Bombay Stock Exchange, the National Stock Exchange of India and the SEBI. Even as it houses a quirky mix of races including Parsis, Jews and Gujaratis all of who today can claim as much a right over Mumbai as do the Marathis! The iconic imagery of this wondrous mega polis includes its never say stop local trains, the lifeline of the city's transport system.
The red double decker buses run by BEST (almost on the verge of being phased out) the "kaala-peela" (black & yellow) taxis with eccentric cabbies largely from UP and Bihar conversing with you in Bombaiya Hindi… not to forget the Dabbawalas who deliver 130,000 lunches to Mumbai's office workers and who even managed to inspire a Harvard Case Study on how do they manage to achieve this without errors!
Every time I touchdown Mumbai, the city of my growing up years, I get a spring in my feet… there is so much nostalgia. And then there is so much I want to do: walks along Marine Drive, Soak in the Queens Necklace at night, a Choco-walnut ice cream sandwich at Rustoms, a sevpuri with extra teekha at D Road Churchgate, joining the long and hungry queues at Swati Snacks for some mouth watering Marathi and Gujarati food, a beer at Mondegar Café with its walls covered in art done by the awesome cartoonist Mario, shop for junk jewelry and Colaba and shoes at Bandra…
But what I also love is to discover something new in this sprawling, ever changing but never changing city!
So here are 5 fun fabulous new things to do in Mumbai:
1. Go kayaking at marine drive
Seeing the Queen's necklace extending from Malabar Hill all the way to Cuffe parade along Marine Drive while rowing and windsurfing on the gentle Arabian Sea is an unbelievable experience! So don't just walk the seafront, get yourself to the H2O Water Sports Complex at Chowpatty and vest-up to paddle.
2. Go micro brewery hopping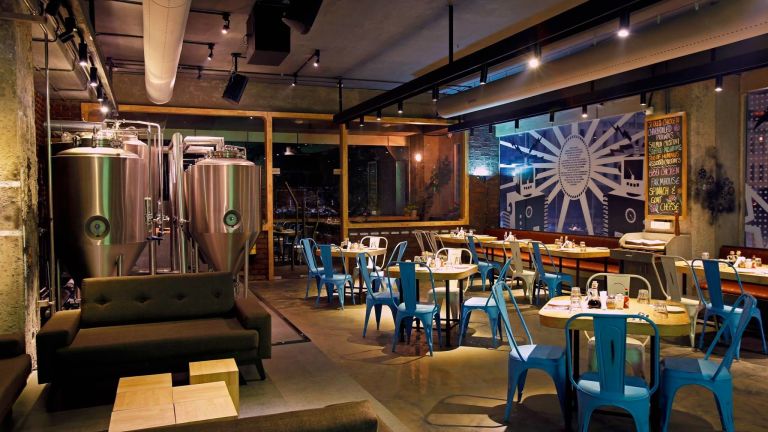 Micro breweries are a new phenomenon sweeping Indian cities and Mumbai has had its share opening of late. The city now has plenty of options offering artisanal ales and small-batch stouts and porters on tap at beer bars, the popular ones being The Barking Deer , Brewbot, Doolally Taproom, etc. The Mumbai Brewery Crawl, is an event offered by Almost Indian, in collaboration with the two popular breweries, The Barking Deer and The White Owl where you get to hop and drink with a group of fun beer enthusiasts.
3. Spend a leisurely evening in a tearoom
Ok, we are done with coffee cafes me thinks, tearooms are the new buzzword. My latest discovery is the Taj Mahal Tearoom at Bandra Reclamation. Spread over 3,500 square feet onside a beautiful blue and white bungalow with sun drenched patios, peach colored walls, quaint chintz covered English loungers, Portuguese patterned tiles and colonial furniture accompanied by an adorable menu. We absolutely loved the vibe and can see ourselves spending hours here just reading or working or chatting with friends over endless cups of tea and nibbles.
4. Catch a stand up show or a magnificent play at The Hive
Mumbai's young culture vultures could not have gotten a present better than The Hive, a cultural hub that opened up a year back in an old Portuguese bungalow in Chuim Village in Bandra. It has quickly evolved into the IT place for all things in the space of the arts and technology and is the space to head for performances, live jamming, workshops, seminars and co-working.
5.Eat at Mumbai's most happening new eatery The Bombay Canteen
​This would easily qualify as 2015's most famous opening in the food space for India. Started by Top Chef Masters winner, Indian American chef, Floyd Cardoz, The Bombay Canteen serves contemporary Indian food in a Bombay nostalgia-meets-industrial garage surroundings in the Kamala Mills Complex in Lower Parel. Apparently, Cardoz pays ode to the Millennium City's various flavours beautifully and the food may be fusion but it is fabulous.
BY: ​RITU AGARWAL
CHIEF CONTENT OFFICER, INSPIRED TRAVELLER
A travel writer, editor and curator, the travel bug, says Ritu, found her purely by chance and has traveled a long way with her first to India Today Travel Plus, where she was editor for close to 9 years, and currently with Inspired Traveller a digital platform. Ritu is now giving what it takes to be a travel journalist. Paragliding in Goa made her experience some raw emotions while soaring the skies but she is determined to overcome silly fears and crack bungee jumping soon.