Indian women are everywhere! Be it literature, sports, entertainment, science or military!
Here's a look at some of those amazing Indian women and why you need to know about them and their contribution of making India proud!
(The list is in no particular order)
1) Bhakti Sharma
Bhakti Sharma is India's (and Asia's) first woman to swim 1.4 miles, in the Antarctic Ocean, in 52 minutes nonetheless! She broke world records and, since then, has conquered all the 5 oceans of the world!
2) Priyanka Chopra
When she is not wow-ing Indian audiences, PC is busy taking over the world. It's not an exaggeration! After scoring the lead role in a prime time American TV show, she went on to win the People's Choice Awards for 'Favourite Actress in a New TV Series' too! There's clearly no stopping her!
3) Rupa Devi
Rupa Devi, from Tamil Nadu, became India's first international referee for FIFA and is all set to officiate international football matches soon!
[embed type="article"]3760[/embed]
4) Arunima Sinha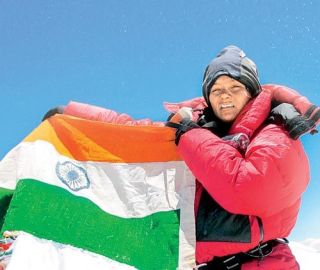 Arunima Sinha is the world's first female amputee (and India's first amputee) mountain climber, who scaled Mt. Everest!
She has also climbed five of the world's eight highest summits!
5) Mary Kom
5-time World Amateur Boxing Champion, Mary Kom did not let motherhood or conventions of the society hinder her from achieving global recognition in the field she loves. She is also one of the only women boxing champion to have gotten a medal for each of the six championships she's participated in!
6) Saina Nehwal
The first Indian woman to receive a medal in the Olympics for Badminton, Sania Nehwal has been ranked no.1 in the world by Badminton World Federation Women's Singles 2015! Hold on, there's more!
She is the first Indian to win the World Junior Badminton Championships and was also the first Indian to win a Super Series tournament​!
7)Puja Thakur
Wing Commander Puja Thakur was the first woman to lead the Guard of Honour for a major visiting dignitary at the Presidential residence, the said major visiting dignitary being President Obama, one of the world's most powerful men in the recent times.
8) Sania Mirza
Sania Mirz has been ranking no 1 in women's tennis doubles and singles since 2003 till her retirement in 2013. She is India's highest ranked female tennis player too!
9) Deepika Pallikal
Squash player Deepika Pallikal is India's first player to enter the top 10 WSA rankings! he also won gold at the Commonwealth Games, in 2014, in the squash women's double event!
10) Tania Sachdev
This young chess player holds World Chess Federation or FIDE titles of International Master andWoman Grandmaster!
11) Kiran Desai
​Winning the 2006 Man Booker Prize for her second book Inheritance of Loss, Kiran Desai gained international accolades and made the country proud.
12) Falguni 'Falu' Shah
Mumbai born Falguni Shah has taken the world of music by storm with her blend of Indian classical music with contemporary western sounds. Since then she has collaborated with biggies like A.R. Rahman, Ricky Martin, Wyclef Jean to name a few!
13) Tessy Thomas
Tessy Thomas, or 'Missile Woman of India', is India's first woman scientist to head a missile project (hence the title!). She is the Project Director for Agni-IV missile in Defence Research and Development Organisation. ​
Even though this list is just 13 women long, it doesn't belittle the achievement of the women not mentioned on this list.