​1) Basil Apple Martini—TabulaBeach Café
(Khel Gaon Marg, The Village Complex, Asiad Village, Khel Gaon Marg, New Delhi)
This one is a total winner for summer. The idea of clubbing apple with an herb is a classic old, but Tabula's doing something right with it's ingredients. The freshness of the basil plays brilliantly off the green apple—and the little kick it gets from the red chili is delicious and punchy. The star anise that laces it manages to be subtle, and not over powering (as star anise can often be). Yum!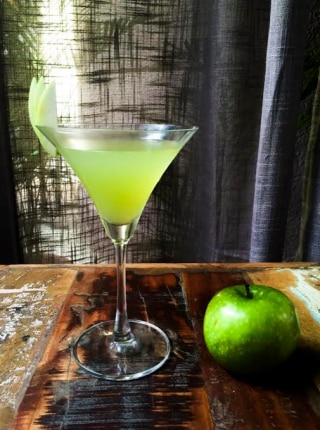 2) Berry Julep​—Smokehouse Deli
(​17, 1st Floor, Khan Market, New Delhi)
Remember the classic Mint Julep? Think that—except with fresh blueberries! Served traditionally in a frosted silver tumbler, this cocktail is the perfect antidote to a hot, summer evening. The crushed ice and uber-fresh fruit add to the overall refreshing factor of the drink. If you're the kind of person who doesn't do well with strong-flavoured drinks, this one's a great bet.
3) ​Passion Rosemary Martini​—Fio Cookhouse & Bar
​(Epicuria Food Mall,Nehru Place Metro Station, Nehru Place, New Delhi​)
This one has a certain tanginess to it that reverberates through the drink, and leave a delicate, passionfruit-infused aftertaste post it. Made with vodka and Martini Rosse, you'll barely be able to taste the sharp intonation of vodka in this baby like you often too with vodka-based cocktails. The rosemary leaves are also a fabulous touch—it lends it an interesting, herb-y flavour.
4) Starwberry and Litchi Margarita—Harry's Bar + Cafe
(S-4, 2nd Floor, Select Citywalk Mall, Saket, New Delhi​)
Oh, but this one is summer perfection. Topped with fresh strawberry and lightly infused with a litchi flavour, this one is great for anyone who likes their Saturday night drink straight-up sweet and sinful. ​
5) Screwdriver—Hauz Khas Social
(​9-A & 12, Hauz Khas Village, New Delhi)
This one wins points for creativity right at the top—served with a legit screwdriver floating in your orange cocktail, it makes you grin right from the presentation stage. Plus, the freshness of the fruit helps. Who said a cocktail needed to be fancy-shmancy to be world class?