Food is one of the most important ways to get to learn about a new culture, so when you are traveling this summer, be on the lookout for any of these quintessential street foods. When you get a look at this list, you're going to want to book a plane ticket (or like, 15).​
1.
Vietnam: Banh Mi
No trip to Vietnam is complete without trying the classic banh mi sandwich. Served on a French style baguette, the sandwiches are filled with classic Vietnamese ingredients, like pork meat balls, scrambled eggs, sardines, and soy sauce. They're soft, chewy, a little bit crackly, and basically the bomb.com.​
2.
Turkey: Durum
If you love gyros, you'll flip for Turkey's warm flatbread sandwiches. Durum is filled with grilled lamb, parsley, and chopped tomatoes, and is probably the best thing since sliced bread. Literally.​
3.
Italy: Suppli
OK, so I know you want all the gelato and pizza "when in Rome" and all, but you have to leave some room for suppli. A street food play on the classic Sicilian dish, these are fried rice balls made with ground beef, tomatoes, and gooey mozzarella cheese. Pizza, who?
4.
Mexico: Tacos al Pastor
When you're in Mexico, Taco Tuesday needs to happen literally every day. Tacos al pastor, a cultural amalgamation of Mexican and Lebanese cuisines, are spit-roasted meats (usually pork) marinated in Mexican spices served on small tortillas.​
5.
Morocco: Tagine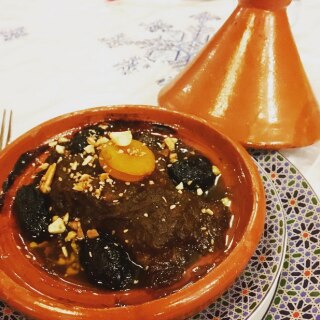 You'll find Moroccan tagines all over the country—from the fanciest restaurants to the market stalls. Though the preparations can vary, they usually include lamb, chicken, or beef, vegetables, spices, and fruits and nuts. Tagines are either served plain or with couscous or bread.​
6.
Argentina: Choripan
If you've never met a sandwich you didn't like, then the Argentinian classic has to be on your list. Made with crusty bread, grilled chorizo sausage, and chimichurri sauces, it's proof that simple can totally make a statement.
7.
France: Crepes
If you go to France without having crepes, you're doing it all wrong. Sweet versions, like Nutella, powdered sugar, and whipped cream are classic, but save some room for the savory variations too, like ham and cheese. You love it on a baguette, so just imagine the combo in a crepe.​
8.
Hong Kong: Egg Waffle
An egg waffle with marshmallows, ice cream, and chocolate is reason enough to book a plane ticket.