Imagine a beautiful quaint French town, with pastel coloured colonial architecture, engulfed by lush bougainvillea creepers, leafy parks and chic, little cafes all around. We're not talking about Paris, but the beautiful beach town, Pondicherry, right here in India.
​
The biggest element of what can make or break your vacation, is choosing the right place to stay at. And so, we chose Le Dupleix. The boutique hotel (that is situated right in the heart of the French town in Pondicherry), had all the exact gorgeous French elements that we were looking for.
We can see where the plush taste and attention to detail came from, when we realised that Dilip Kapur, the founder of the indigenous leather brand, Hidesign, is the brains behind this chic property. We couldn't help but notice that some of the woodwork looked like it came straight from an old, colonial house and to our surprise, we realised that the hotel is named after the last governor of Pondicherry, and Mr Kapur restored a large part of wood-work form his house!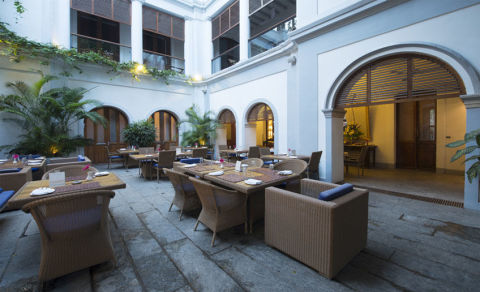 ​
​
The hotel is a fantastic mix of the traditional and the modern, and has a quaint forgotten-in-time feel to it. It displays authentic artefacts, restored from Pondi's French heritage, antique textiles borrowed from couture embroidery master Jean Francois Lesage, and a custom-designed stone courtyard.
Our Expert Tip: Make sure you order some sea food and Creole cuisine—utterly divine!