7 Types of Manicure You Need to Try for 2021
Read this, then book that nail appointment.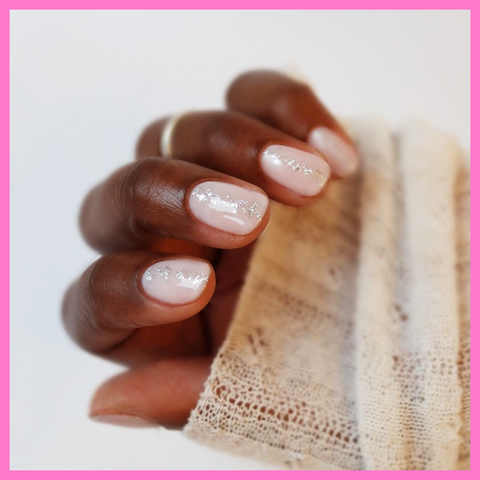 Instagram/@mytownhouseuk
Picking out the right type of manicure for yourself requires way more than just choosing the look you like best (although I'll admit—that's a good chunk of the decision process). You'll also want to factor in the upkeep for that specific mani type, so you know what it is you're signing up for. In other words, think long and hard about whether you're cool with spending two hours with your nail tech every couple of weeks or whether you'd rather the flexibility of changing your nail color any time you want. To help figure out which manicure fits your look and your lifestyle (and your budget), I interviewed salon owners, nail techs, nail artists, and manicure experts to bring you the facts. Keep scrolling to figure out which of these 7 popular manicure types is best for you.
[instagram]https://www.instagram.com/p/B4YPuIHDITC/?utm_source=ig_embed&utm_campaign=loading[/instagram]
What is included in a basic manicure?
A standard manicure usually includes trimming, shaping, filing, and buffing your nails, addressing your cuticles, which could include trimming and a cuticle oil treatment, and a hand massage. The application of nail polish at the end is optional.
Julie Kandalec, celebrity manicurist and founder of Masterclass Nail Academy, says, when possible, opt for a dry manicure instead of one that requires soaking in water. "What happens is it swells the nail plate and the polish doesn't swell along with it, so they separate, and that's why your polish chips," she explains.
How much is a basic manicure?
Between $10 and $40. Some salons charge less if you opt for a polish-free manicure.
How long does a manicure take?
On average, 30 to 60 minutes, plus drying time.
How long does a basic manicure last?
Manicures with regular nail polish are notorious for chipping right away, especially when done at home, and typically, they last a few days. To make your mani last as long as possible, Kandalec recommends wiping down the nail and under the free edge with 99 percent isopropyl alcohol to remove any oils from the nails that could prevent the polish from adhering.
[instagram]https://www.instagram.com/p/B5dPmwygfp8/?utm_source=ig_embed&utm_campaign=loading[/instagram]
What is a Vinylux manicure?
A step up from regular nail polish, Vinylux is a professional color brand created by CND to last longer but can still be used at home as well as in the salon. "It consists of a two-part system with a self-adhering color coat, requiring no base coat, and a top coat that corresponds to natural light, making it tougher with time," Jan Arnold, cofounder of CND, says. "The result is striking color and lasting high-gloss shine and protection."
How long does Vinylux last?
When applied properly, a Vinylux manicure can last a full seven days. "A cardinal nail sin, which is made by many at-home polish connoisseurs, is skipping the top coat," Arnold says. "But I can't stress enough—don't skimp on this step. Especially with Vinylux, as it is a two-step system, always apply the Vinylux Weekly Top Coat. It's the key to long-lasting wear, protection, and shine."
How do you remove Vinylux nail polish?
You can remove Vinylux like you would a traditional nail polish—with an acetone-based nail polish remover and cosmetic pad.
Is Vinylux bad for your nails?
On the contrary! Arnold says in addition to being easy to apply and remove, Vinylux works as a protective coating on the nails to shield against normal wear and tear.
How much does a Vinylux manicure cost?
Salon service prices vary per location, but a bottle of Vinylux Weekly Polish for at-home manis is available for $10.50.
[instagram]https://www.instagram.com/p/B2uT-6qFEvp/?utm_source=ig_embed&utm_campaign=loading[/instagram]
What is a Shellac manicure?
Shellac is an in-salon professional product formulated as a polish-gel fusion that applies like a nail polish but is tough like a gel. Arnold says it combines the best of both worlds—the long-wear, no dry-time of a gel with the color and shine of a polish.
What is the difference between gel nails and Shellac?
You might hear people use Shellac as a generic term for gel polish because it's the original, patented product, but Shellac is a product only offered by CND. Arnold says unlike traditional gels that are difficult to release from the nail, Shellac removes with no nail damage and no downtime needed between applications.
How long do Shellac nails last?
Around 14 days or longer.
How do you remove Shellac?
"Where you see the most nail health benefits of Shellac is in the removal process," Arnold says. "Shellac has a unique formulation that when applied, forms tiny microscopic tunnels throughout the coating. This means that when it's time for removal, the acetone penetrates through those tiny tunnels, all the way to the base layer, actually releasing the polish off of the nail." In other words, no long removal times or dreaded scraping. As simple as the process is, Arnold recommends getting the polish removed at a salon rather than doing it yourself.
Does Shellac ruin your nails?
If not applied properly, nail damage is possible. But Arnold adds that as long as you visit a CND Shellac-certified salon and a trusted nail professional, regular manicures that use the full patented system do not cause damage.
How much does Shellac cost?
A regular Shellac manicure can cost anywhere between $45 to $60. However, the price also depends on a number of other factors, like the location and embellishments or nail art.
[instagram]https://www.instagram.com/p/BvR2o8pFUhT/?utm_source=ig_embed&utm_campaign=loading[/instagram]
What are the different types of gel manis?
As Kandalec explains it, there are two types of gel: soft and hard. Soft gel (aka gel polish) is porous, which is why you can soak if off in the salon. Hard gel, on the other hand, is sculpting gel. With hard gel, you can extend the nail and create cool shapes you otherwise couldn't, like long coffin, ballerina, or stiletto nails. Hard gel is not porous, so you have to file it off when it's time to be removed. "If you go somewhere that knows what they're doing, you can see where it starts and stops on the nail plate, so there's really minimal damage," Kandalec says. While both types of gel can be used separately, you can also layer them over each other.
What makes gel different from acrylic?
According to Kandalec, they're pretty similar but acrylic is generally harder and hard gel is more flexible. "Gel and acrylic are cousins," Kandalec says. "I've used hard gel to fill acrylic and I've used acrylic to fill hard gel."
Does gel ruin your nails?
If you routinely get a gel manicure and peel it off, eventually it will cause damage to the nail. Kandalec always recommends seeing a nail tech to remove hard gel, but for soft gel, as long as the polish is being properly removed, it's okay to try it at home. If you're having issues with your natural nail, Kandalec suggests taking your polish off for two weeks to restore the virgin keratin for adhesion purposes but says otherwise it's not necessary to take a break.
How much do gel nails cost?
Between $20 and $65. Kandalec says, generally, you can expect to pay $10 to $20 extra for gel polish on top of a regular manicure. Nail art would be an additional charge on top of that.
How long does a gel manicure last?
Two to three weeks, but no more than three weeks. Even if the client's nails grow slowly, Kandalec says they should still have them redone around the three-week mark because the gel will continue to cure under the sun and will become harder to get off and potentially cause more damage than normal.
To ensure your gel polish lasts the full two weeks, Kandalec recommends applying cuticle oil under the free edge in between appointments to prevent your natural nail from curling away from the gel.
How long does a gel manicure take?
A gel polish manicure can take 45 minutes to an hour, but there's no additional drying time.
[instagram]https://www.instagram.com/p/BqLbrPWlau2/?utm_source=ig_embed&utm_campaign=loading[/instagram]
What is a dip powder manicure?
With dip powder, the actual color of the client's manicure is the color of the powder their nails are dipped into or poured over their nails. The powder is sealed by layers of adhesive, and there's no dry time or UV/LED lights required. "Unlike a traditional polish manicure, dip powder preparation is done completely dry because dehydrated nails are required for the strongest adhesion of the product," says Joy Terrell, owner of L.A.-based salon Powder Beauty Co. "Use of added moisture from water or oil can cause lifting and a shorter life span for the dip powder manicure."
Is dip powder the same as acrylic?
The two systems are similar but different. Terrell says the most important difference between dip powder and acrylic is the bonding agent required. "Dip powder requires a resin-based agent, like super glue, and acrylics require a liquid monomer to hold the acrylic and the nail together," Terrell says. "Dip powder actually sits on top of the nail beds, whereas acrylic coheres to the nail plate, forming a chemical bond with the nail itself."
Does dip powder ruin your nails?
Terrell says as with any long-lasting option, nail thinning is a possibility, but with minimal buffing and gentle and timely removal, the damage can be minimized. Terrell also recommends giving the nails a break every two to three months to get an intense strengthening and moisturizing treatment.
How long does dip powder last?
Dip powder manicures can last two to four weeks. However, Terrell doesn't recommend going beyond 14 days. "It's never a great idea to keep anything on your nails for an extended period of time without removing or replacing it," Terrell explains. "Keeping it on too long can cause bacterial infections to form between the nail beds and the powder."
How much does dip nails cost?
A dip powder manicure costs $44 at Powder Beauty Co., but Terrell says it can range from $36 to $54, depending on the location and the type of salon.
Can you remove dip nails at home?
As long as it's done the right way, Terrell says dip powder can easily be removed at home. This doesn't mean you're free to pick or pull it off though. "When it's removed like that, the top layers of the nail bed can come right off with the powder, which thins out the nails," Terrell says. The correct way to DIY it is to first file or buff off the shiny top coat to allow the acetone to penetrate. Then, soak your nails in a small bowl of pure acetone for 10 to 15 minutes. Terrell's pro tip: Place a steaming hot towel over the bowl to speed up the process. After 15 minutes, take an acetone-soaked cotton ball and wipe of any remaining dip powder.
[instagram]https://www.instagram.com/p/BwGXNVDnXTR/?utm_source=ig_embed&utm_campaign=loading[/instagram]
What is a gel nail extension?
Aprés Gel-X extensions are a favorite of Natalie Minerva, founder and co-owner of Nail Swag, because they're a fast, easy, and durable alternative. These are pre-made gel extensions that look not unlike glue-on nails and are applied with a clear gel and cured with a mini LED light. The nails come in different shapes (almond, stiletto, round, square, and coffin), lengths (short, medium, and long), and curves (natural and sculpted) to fit the curvature of the natural nail bed. The extensions can be topped with gel (Minerva prefers to use a Japanese gel called Riccagel) or you might've come across the clear, stained-glass look, otherwise known as jelly nails.
What's the difference between gel nail extensions and acrylic?
Gel extensions wears the same amount of time as acrylics, if not longer. The main difference between the two is in the flexibility. Minerva says while gel extensions are pliable and have a little bit of give, acrylics are brittle and break more easily. Minerva also adds that the extensions are thinner than acrylics, so they feel more like a natural nail.
How long do gel extensions last?
Although they can last longer, Minerva recommends that her clients come back after three weeks for a fresh set. Any longer than that, and you risk the nail extension lifting and bacteria entering underneath.
How long to nail extensions take?
For one color, Minerva says the process can last an hour and 15 minutes, but depending on the art, an appointment can take up to two and a half hours.
How much do gel extensions cost?
Gel extensions with one color cost $80 at Nail Swag. The price goes up, depending on the art the client wants, but the average is usually in the $125 range.
How do you remove gel nail extensions?
The extension is a soak-off, like a standard soft gel, and breaks down like a regular soft gel would. In other words, don't pop try to pop them off just because it's faster. "For me, nail safety is such a big one," Minerva says. "You can have all the fun art but if you don't have a strong base underneath, it doesn't matter because it's going to break." To properly remove them, Minerva recommends first filing off all the art and as much color as possible, then applying an acetone-soaked cotton ball over the top and wrapping it in foil or fast foils.
Do gel extensions damage your nails?
According to Minerva, the damage is very minimal, if any. "The Aprés extension gel is really gentle and comes off really fast, so there's no need to be aggressive with the cuticle pusher," Minerva says.
[instagram]https://www.instagram.com/p/Bxv2PzkhFN6/?utm_source=ig_embed&utm_campaign=loading[/instagram]
What are acrylic nails?
Essentially, acrylic is made from a liquid (called a monomer) and a powder (called a polymer). When these mix together, they cure on their own, and they make the hard acrylic enhancement. The nail tech can use nail forms to shape the acrylic into whatever look you want, like coffin, square, ballerina, flare, and round, as well as add embellishments or nail art.
How long do acrylic nails take?
According to Jenny Bui, Cardi B's go-to nail technician, an appointment can take anywhere from an hour up to 2 hours, depending on the complexity of the design.
How long do acrylics last?
Bui says how long acrylics last depends on each individual client and how quickly their natural nails grow, but she typically sees clients every three to four weeks to get their nails redone. Instead of replacing the entire acrylic nail each time, though, nail techs often use a technique called a fill. During this process, the area of new growth around the cuticle is filled in, any areas where the acrylic had lifted away from the natural nail are filed down, and the acrylic nails are restructured and rebalanced.
How much do acrylic nails cost?
The price varies depending on the salon, the nail tech, the location, as well as the nails themselves and the design you want. Bui says the cost can be as low as $25, but other artists charge upwards of $75 to $100 for a full set. Be up front with your nail tech about your budget, and they'll be able to guide you to your best options to fit within it.
Do acrylics ruin your nails?
If you rip off the nails, of course they'll cause damage to the natural nail underneath. But as long as acrylics are installed and removed properly by a trained technician, they're not as damaging as people make them out to be. With that said, Bui doesn't recommend having acrylic nails for long periods of time and is a believer in allowing the nails time to breathe.
How do you remove acrylic nails?
The removal process requires a process of filing and soaking in acetone to remove the acrylic material, so it's recommended that you go to a salon to have a nail tech remove the acrylics for you. Much better than ripping the acrylics themselves, which, honestly, makes me queasy just thinking about it.
THE FINAL TAKEAWAY
If you were looking for a definitive answer of what type of manicure is better than the other, sorry, can't help ya. The best type of manicure really just means the best type of manicure for you. As long as you're seeing a properly trained technician who knows what they're doing, you should have great results from any option you choose.