​Even if you know zilch about beauty, you'd know that contouring is beyond hot right now! Thanks to Kim K, we can all get sculpted, supermodel-esque cheekbones. Nilu Yuleena Thapa of Big Hair Loud Mouth gives us the step-by-step to a chiselled face.
Step-1
"Start by prepping your face with a primer. Then, use a tinted moisturiser to get an even-toned complexion. Now, trace the contours and highlights of your face by placing a brush in an angular fashion (see pic)."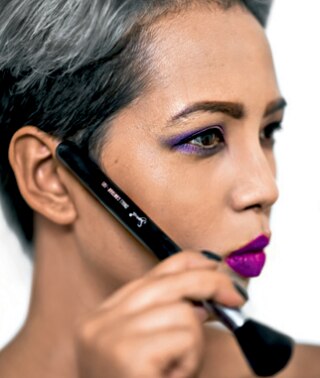 Step-2
"Next, mark the areas you want to contour—the hollows of your cheekbones, your jawline, and the sides of your nose—by applying bronzer with the help of a brush."
Step-3
"Apply a highlighter to the top of your cheekbones, just under your cheekbones, at the centre of your nose and chin."
Step-4
"Using a fluffy brush, dust the entire face with translucent powder to secure the make-up. Say hello to supermodel you!"