In case you thought that all Bollywood stars are high-school drop-outs, or straight out of film school, you are highly mistaken. Some of them are way more qualified than you would ever imagine. And despite their degrees and doctorates, they pursued Bollywood because they wanted to.
Here are 8 super smart Bollywood stars who continue to inspire us in every way.
1. Kareena Kapoor
After studying commerce, the bubbly actor went on to pursue microcomputers at Harvard University!! After which she also spent a year studying law, before Bollywood happened. She literally gives us #EducationGoals. Wait, is that even a thing?!
2. Sonam Kapoor
The fashionista completed her pre-university education from the United World College of South East Asia, Singapore. And then achieved a a Bachelors's degree in Economics and Political Science from the University of East London. Beauty and Brains, say what!
3. Parineeti Chopra
Parineeti actually wanted to become an investment banker before she was enamoured by Bollywood. And she would have been a pretty good one, might we add, having received a triple Honours degree in Business, Finance and Economics from the Manchester Business School in England.
4. Jacqueline Fernandez
The Sri Lankan beauty graduated with a Mass Communications degree from Australia and returned back to Sri Lanka, where she continued with her modelling career while being a political reporter. She definitely had life all sorted from a young age.
5. Preity Zinta
Her acting skills are not the only impressive thing about her. The dimpled lady, has a bachelor's degree in English from St. Bede's College in Shimla. AND a master's degree in criminal psychology! Who knew that about her? 6. Varun Dhawan
The Bollywood hunk is not as immature as he seems. He actually has a business management degree from Nottingham Trent University in England.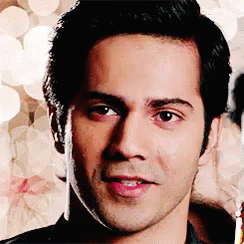 7. Amitabh Bachan
Big B has not only ruled Bollywood, he has literally ruled life. He earned a Bachelor of Arts degree from Delhi University and now has 4 honorary doctorates- from De Montfort, Leicester, Jhansi and Queensland University of Technology in Australia.
8. Ranveer Singh
Ranveer used to think that acting is a difficult career path to follow, how the hell did he become so good at it then?! He graduated from H.R. College of Commerce and Economics, and has a Bachelor of Arts degree from Indiana University, Bloomington. We're glad you followed acting after all and blessed us with your glorious six-pack abs, Ranveer.