Some may say that India is evolving, while other's may deny it. Regardless, there are several issues still embedded deep into our society that are hard to defy, and let go of. Here are 7 Bollywood female celebrities that defied all norms, and carved a very successful path for themselves. Their achievements are inspiring and commendable.
1. Priyanka Chopra
She is the golden girl at the moment and shining her way through Bollywood and Hollywood. But times were not always so easy for her. A lot of hard work went into all the stardom she sits upon now. From starting off by winning Miss World in 2000 to becoming the first Indian actor to get a lead role in an American T.V. show- she is at the top of the world and inspiring to all of us.
2. Kangana Ranaut
The Queen of Bollywood has never been afraid to speak her mind, and break into the Bollywood barriers through her 'nepotism' remarks. She continues to defy all the social stereotypes of being a woman in India, just by being her honestly brutal self.
3. Kareena Kapoor
Kareena wasn't just inspiring on-screen as she is off-screen. From her out-there 'Poo' personality to her out-going and bubbly 'Geet' character, she has always given us life goals. Pregnancy has always been a humble and hush-hush topic in Indian media, until Kareena's pregnancy happened. Instead of hiding her baby bump, she walked every red-carpet event, and flaunted her bump glamorously. The actress set new examples of the million things a woman still can do when she's carrying the miracle of life.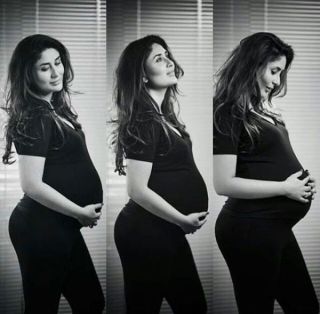 Photo via HT Brunch.
4. Sushmita Sen
Did you know that the very-underrated actor, was the first ever Indian to win Miss Universe? And now she's a single mother to two adorable daughters, Renée and Alisah. But why's that so inspiring? Because not only is she a single mother, but also, both her daughters are adopted. She has held her ground despite every scandal and all the societal pressures with such grace.
5. Konkona Sen Sharma
The bong beauty reiterated the progressive Bengali stereotype by achieving a rare success in art films. And also, she became the first Indian actress to appear on a magazine cover with a baby bump. But that's not just it, she announced her pregnancy before marrying her co-star Ranvir Shorey. Even though they've split up since, Konkona still has her head up high and defied all pressures surrounding her pregnancy.
6. Farah Khan
Wonder why this famous director is inspiring? Well, she became the first Indian celebrity who got pregnant through in-vitro fertilisation. She married Shirish Kunder in her 40s and opted for IVF to give birth to triplets.
7. Rekha
This iconic beauty is well-known for all the controversies surrounding her powerful image. From her rumoured love-affair with Amitabh Bachchan to her second husband killing himself, Rekha has been a heated topic of conversation. But this leading lady has constantly held her ground and delivered some rememberable performances.