There is so much more to a movie than we what we get to see on the big screen, when it is released. Besides the immense hard work put in by the cast and crew, there is a humongous pile of trivia waiting to be unleashed.
Read on for a few fun facts, that we compiled from Quora.
1. Kareena Kapoor was termed as the most expensive actress he has ever worked with, by Madhur Bhandarkar, when they were filming 'Heroine', owing to her colossal wardrobe in the film! Kareena wore more than 130 dresses, collated from designers all across the globe; with one of the dress costing a whopping 1.5 Crores! We bet you feel more sorry about the film tanking, now.
2. Ashutosh Gowarikar's blockbuster hit film, Lagaan was not just a brilliant piece of work, but had several laurels credited to it. Interestingly, it was the first Indian film to be released in China, being dubbed and premiered in Shanghai, Beijing. It also held the record to cast the maximum number of British actors in a single Bollywood film! It is also known, that during the film's shoot, when a fun cricket match was actually organised between the British cast and the Indian actors, it was the former who emerged the winner.
3. The world discovered an Indian actor resembling a Greek God and several iconic dance steps, when Hrithik Roshan debuted in Kaho Naa...Pyar Hai, making it the most successful entry into the film industry, any actor could have wished for. The movie was added to the Guinness Book of World Records back then, for winning the maximum number of awards any Bollywood film had ever won. The golden number was 92!
4. Aamir Khan is renowned to be a 'perfectionist' for his impeccable knack of choosing a script, and ends up, with a mind-blowing act of cinema, almost every time. Hence, it's actually not surprising that it was his film that would be the pioneer to cross a benchmark, not once but thrice! Ghajini was the first film to cross 100 crores at the Box Office; 3 Idiots, was the first to cross the 200 Crore mark, and PK was the first to set the 300 Crore benchmark – all three starring Aamir Khan.
5. The Spanish tourism should definitely bestow some token of gratitude on Zoya Akhtar, as reportedly, there was a 32% hike in the number of Indians who visited Spain after the release of the movie Zindagi Na Milegi Dobara. If you're saying you too didn't get some serious #VacayGoals after watching the film, you're lying.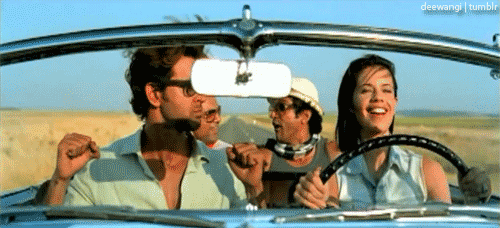 6. Raj Kapoor's Awaara has more to its kitty than just being a super-hit film in Bollywood. Apparently, it was a source of optimism in Russia during the second World War, when the people were in a terrible condition, owing to the repercussions of the war. Dying people, widespread starvation and devastation all over, the Russians took solace from Raj Kapoor's character who faced all adversities with a smiling face, and were hugely inspired to take on their own deplorable condition in a similar fashion.
7. Speaking of Raj Kapoor, did you know that his film Mera Naam Joker was the first Bollywood movie to have more than 1 interval? Now, you do.
8. Shahrukh Khan starring Swades was highly appreciated for its story, and received generous critical acclaim. The story struck a chord in the heart of people, maybe because, it is actually a true story! It drove inspiration from the work of a real life couple, Aravinda Pillalamarri and Ravi Kuchimanchi, an NRI couple who returned to India and contributed to society heavily, by developing a pedal power generator to light remote, off-the-grid village schools.
9. Imtiaz Ali's most successful directorial venture, Rockstar(obviously, after Jab We Met, coz we just adore that movie!) has some pretty interesting trivia to boast of, besides the masterpiece of a story that it was. It was actually shot in reverse, with the climax of the film being shot first. Reason? The filmmakers did not want to mess up Ranbir Kapoor's hairstyle!
10. A film that won a million hearts, Rang De Basanti is still remembered as one of the finest movies Bollywood has ever produced. In a scene from the film, the character Sue (played by Alice Patten) looks at her grandfather' watch which is showcasing the time as 7.30. It happens to be the exact time when the legendary patriot Bhagat Singh was hanged to death, in reality. Talk about creepy specifics.