1. Shah Rukh and Gauri Khan
Wouldn't you expect a grand proposal from one of the richest man in Bollywood? Yeah so did we. But Shah Rukh remained humble and true to his roots, and went with the simplest of proposals.
Shah Rukh and Gauri, fell in love and dated for a while, like every lovestruck young couple. And the Bollywood star, finally asked her the question, every girl wants to hear. This is how the proposal unfolded, "I had a Fiat back then and I was dropping her home. That is when I asked her if she will marry me and went off, I didn't even wait for her to say 'yes' or 'no.' She must have said a 'yes' only, because then we were married off," he said.
Clearly Gauri didn't didn't need anything big, considering they're happily married now.
2. Hrithik Roshan and Sussanne Khan
Apparently, he's always had a crush on Sussanne, since he was about 12 years old. Aww, young love.
He even proposed to her on Valentine's Day! Can it get any cuter? His proposal, might have been a little cliche, but it's adorable nevertheless. It's rumoured that he slipped a beautiful ring, into a mug of coffee that she was drinking. At least it wasn't obviously visible, like in a champagne glass. Come on people, it's translucent, and no girl can miss a diamond!
3. Abhishek Bachchan and Aishwarya Rai Bachchan
Everybody is aware of the love story between Bollywood's favourite couple! Abhishek couldn't get his eyes of Aishwarya, while they were shooting for Kuch Naa Kaho. And they finally accepted their love, on the sets of Guru.
Apparently, Abhishek confessed that while filming in New York, he always used to ponder (on the balcony of his hotel room), over the thought of marrying his lady-love. And he finally plucked up the courage to ask her, on that same balcony, during the premiere of Guru.
A proposal in New York! Isn't that everybody's dream? Well, recreating Sleepless in Seattle, has always been ours.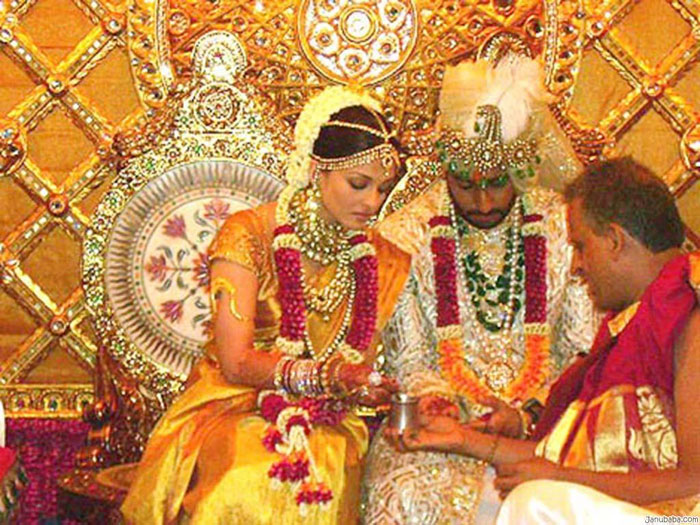 4. Kareena Kapoor and Saif Ali Khan
Apparently, Kareena admitted that Saif, proposed to her three times, before she said yes! That's some dedication, but at least the third time was a charm.
In an interview, Kareena explained how all the proposals happened, and it's just adorable.
"We were at the Ritz Hotel in Paris actually, I think it was at the bar and then I think I said no and then there was one more time, in the same trip, and then we were at the Notre Dame Church," she said.
She went to on to explain how she finally said yes, "He actually proposed to me a couple of months after we met in Paris. In fact, his father proposed to his mother also in Paris when she was shooting a film, An Evening in Paris. And we were on a holiday in Paris as well and I was just like, "Yeah, of course.""
Although Saif didn't go down on his knees, the fact that he proposed in the city of love, should make up for it!
5. Malaika Arora Khan and Arbaaz Khan
The fierce Malaika, didn't waste a moment when she knew that Arbaaz was the love of her life. And she actually proposed to him. Yes! Embracing the 21st century, we're all for women can propose too. Because why can't we? Men don't need to be the only romantic ones.
They met while filming a coffee commercial, typical first date coffee situation here. And after dating for five years, Malaika finally popped the question.