A forgotten page in the chapter of Bollywood, this couple killed it with their sizzling chemistry on-screen, and their real life romance blooming during the shoot of Main Khiladi Tu Anari.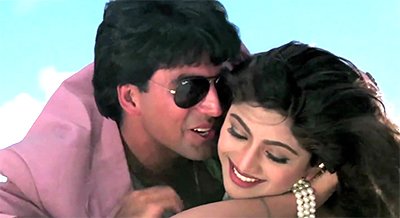 Their shocking break-up, followed by Akshay Kumar's rushed marriage with Twinkle Khanna clearly left Shilpa Shetty devastated, and in denial. A lot was said about the duo, and the ugly case of Akshay Kumar cheating on Shilpa Shetty looped in utter disdain.
In an interview back in 2000, Shilpa Shetty got candid about her break-up, and the miserable ordeal she had gone through.
"It has been a rough period personally. But I'm glad that the ordeal is over. After every dark cloud, there's always a silver lining. All this while, though things were going well professionally, my personal life was pulling me down. It feels good that it's finally behind me."
It feels so relatable when she talks about being the partner who got cheated on, and makes you wonder that these celebs at the end of the day, are human too, and can really break down.
"When you love someone and all along, don't realise that you are being taken for a ride, it can be very annoying. I wanted our film to get over and be released, so that it wouldn't come in the way of my producers. I couldn't harass them just because my personal life was turning into shambles. So, I decided to wait till Dhadkan was done with."
Akshay Kumar's statement on being asked about the whole fiasco will shock you to your core. Disregarding all emotions, he just retorted that Shilpa should not make a scandal out of the whole deal. To which, Shilpa Shetty replied, "That's his opinion, not mine. After what he did with me, what else could he say?"
On being asked about her equation with the woman he left her for, none other than Twinkle Khanna, an expected response would have been of hate. But, Shilpa was not even the slightest of upset with Twinkle. She said, "No, I'm not at all upset with her. What's her fault if my man was cheating on me? There is no point blaming any other woman, it was entirely his fault."
Considering the fact that she was immensely in love with Akshay Kumar, with full plans of marrying him, a heart-broken Shilpa was left agonising over her fate, and broken trust when Akshay dumped her and married Twinkle instead.
She said, "Akshay Kumar used me and conveniently dropped me after he found someone else. The only person, I was upset with, was him. But I'm sure he'll get it all back. It's not easy to forget the past so soon, but I'm glad I've had the strength to move on. Today, he's a forgotten chapter as far as I'm concerned. I will never work with him again. Professionally, things have never looked better."
Today, both of them are happily married to their respective partners, and are proud parents of their children. But, even now they resist making public appearances, or signing up a film together.
Even if they eventually moved on, the bitter after-taste of their ugly break-up, has drowned all hopes of their fans to ever see them share screen space, again. A beautiful love-story, with a sad death.