Shah Rukh Khan is one of the few celebrities in Bollywood who has sustained a marriage, in an industry where a couple gets divorced by the day, and relationships hardly see the light of day.
His marriage with Gauri has been rock-solid and the couple never fall short of giving us #FamilyGoals now and then. But, there was a time when rumours were rife of Shah Rukh's growing intimacy with his co-star and now a global icon, none other than Priyanka Chopra.
The two have worked only in Don, but they have gone on record to admit that they share a 'unique friendship', which is beyond anybody's comprehension. There were several instances that pointed towards their alleged affair, be it SRK's special treatment towards Priyanka wherein he recommended her to producers, or be it PeeCee's frequent visits to Mannat (Shah Rukh's house).
They often went to tours to host shows together, travelled for film festivals, and even tried to get themselves endorsements as a pair! When the film fraternity had to invite PeeCee to their parties just on SRK's request, things started to get all riled up. Even Karan Johar, who was then at loggerheads with Priyanka, had to swallow his pride and invite Priyanka Chopra to his birthday bash.
When this turned into a full-blown controversy, the two actors drifted apart and now refrain from talking about each other. Some even conjecture that PeeCee moved her focus to the US, because of things heating up in Bollywood owing to her closeness with SRK, which was obviously not well received by Gauri Khan.
In this throwback interview, we can once again get to witness Shah Rukh and Priyanka candidly confess their fondness for each other, and what was brewing between the two, is left to the reader's imagination. It's not really rocket science, though.
Have a look at these quotes if you're still not convinced.
"Personally, I am quite uncomfortable around actors. I get very conscious. But she(Priyanka) makes me feel comfortable. She'll fix my hair if it's out of place. It's nice working with a friend like that. Also she has realised that I am as insecure as anyone else." - SRK
"Ever since I remember, I've wanted to grow up and be like him. Perhaps like a female version.'' - PC
"As an actor when you put in long hours of work, and then you have someone who you really love or feel for, to share that space, you feel fortunate.What's unfortunate is when people give it a name or a tag. Sometimes friendships or relationships are beyond what people say. So when things out of the ordinary are said, it's not embarrassing to us at least, because we know what it really is." - SRK
''I read what's written, think about it, but it won't come in the way of what we feel for each other.'' - PC
"I'm happy she's around. I can take the advantage of calling her and asking her to do a three-day shoot for me, where all she's doing is hanging from a rope. And she does it for me." - SRK
"I'd never have the guts to disagree with him. But yes, he reprimands me all the time. Just because he knows I can't turn around and say anything back." -PC
"We've only done Don together. But I would love to do a full-fledged romantic film with her."-SRK
It's no surprise that the two deny all rumours of an affair, and when quizzed about it then, Priyanka quipped, "You are the ones writing it. You should go and ask your fraternity."
Recently, Priyanka on an International chat show called Dirty Laundry, accidentally may have revealed that she was in fact dating Shah Rukh!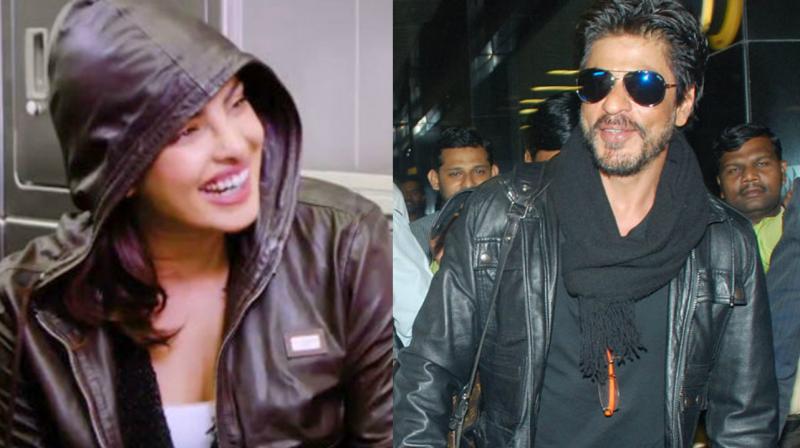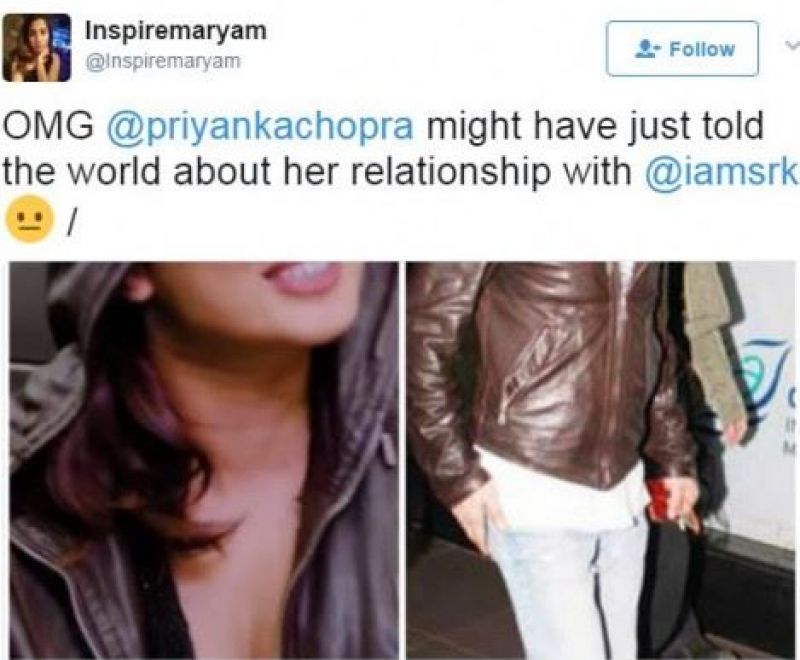 Just a marketing gimmick, or harmless rumour—one would never know, we guess.
via Filmibeat