Amitabh Bachchan may be one of the better people in Bollywood to have a safe choice of words that don't get him into any unwanted controversies but that deffo doesn't seem to be the case with his better half, Jaya Bachchan.
The star-wife has gotten into enough controvs thanks to her sharp words and devil may care attitude. From blasting papps to giving fitting replies to political giants, Jaya has managed to say enough things to land a separate article to herself, covering all the bad*ss words that roll out of her mouth, so effortlessly!
#1
When she got miffed with the photogs who addressed her daughter-in-law on first name basis.
Everyone remembers this one! Yes, we are talking about the event where Jaya Bachchan lashed out at reporters for addressing her daughter-in-law, Aishwarya and not Aishwarya Rai Bachchan. She told the media, 'What's Aishwarya? Is she your school friend?'
#2 When she described Abhishek Bachchan's film as "nonsensical".
300 Crs+ worth of box office collection of Happy New Year (a film that feautured her son, Abhishek) didn't stop her from giving a nasty review about the project. Mrs Bachchan went on record to describe Happy New Year as a "nonsensical film" at the Mumbai Literature Festival. And as expected, fans were shocked to see this publicly-critical side of her so close to the release of the movie.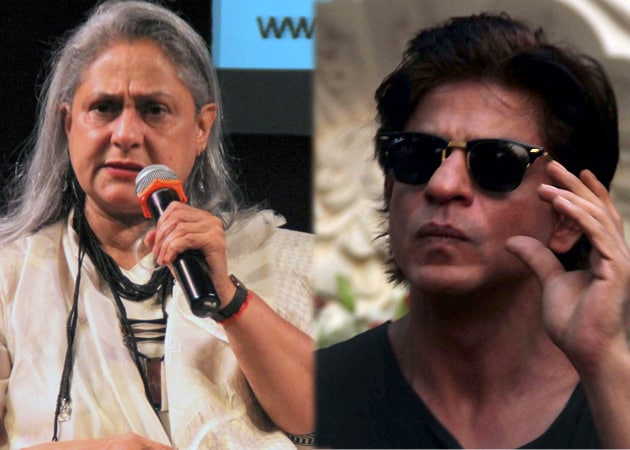 #3
When she lost her temper at an event
Jaya Bachchan lost her temper at an event where she was present to address a group of students at a college festival in Mumbai.
Bachchan, who was present at the Umang Festival 2016 at Narsee Monjee College in Mumbai, was having a conversation with senior film journalist, Bhawana Somaaya, got irritated with students who were clicking her pictures. "Put your mobile down", she shouted.
[youtube ]https://youtu.be/hgH7CKZOCMQ[/youtube]
#4
When this politician blamed Jaya Bachchan for split in their relationship
The Bachchan family was known to be close to a political leader, Amar Singh. But the reason their relationship soured is still unknown.
Singh had earlier expressed his hurt over falling out with the Bachchans, but never spoke openly about it.
Speaking about his relations with Amitabh Bachchan, Singh said he had differences with Jaya Bachchan and Amitabh had 'apologised' to him.
#5
When she snapped at a fan who tried to take a selfie with her
The actor was recently snapped exiting the temple and heading for her car, a bunch of fans who had assembled outside to click photos went out of control. One of them came wayyy too close trying to take a selfie with her without her permission of course, and almost touched her which made her lose her temper and shout out, "Don't do that… Stupid!"
[youtube ]https://youtu.be/eOCmqPVhHd8[/youtube]