1. Shilpa Shetty Kundra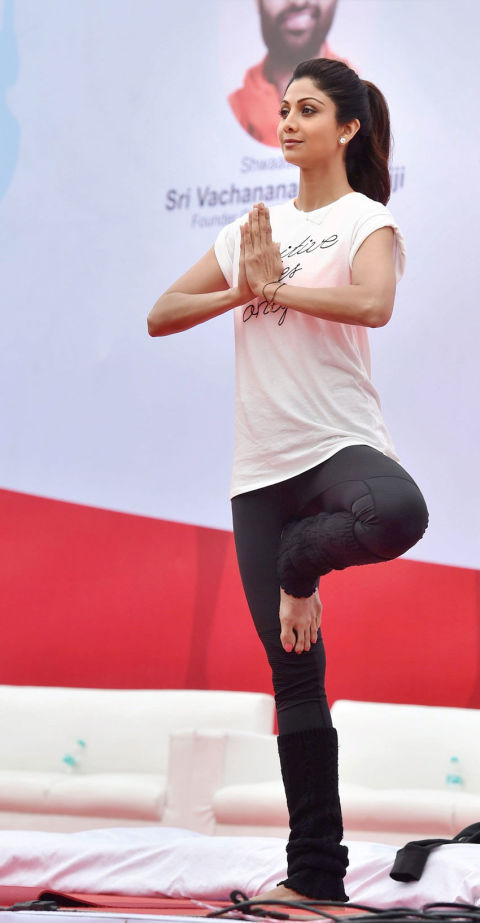 Shilpa Shetty Kundra has been a yoga lover for years—and she credits her fabulous body to yoga. She has even released a number of DVDs to promote yoga.
2. Kareena Kapoor Khan
Another Bollywoood celeb who swears by yoga is Kareena Kapoor Khan. She practices power yoga and hot yoga, and doesn't just do it to keep fit, but also to de-stress.
3. Malaika Arora Khan
Malaika Arora Khan is a self-confessed yoga freak, and spends a couple of hours on power yoga every day—no matter how busy her schedule! Kareena is the one who convinced Malaika about getting into yoga and now Malaika credits her for it.
4. Nargis Fakhri
Nargis Fakhri is obsessed with hatha yoga, and swears that's the secret to her amaze-balls bod! In an interview with India Today, Nargis said, "It was pretty tough for me at first but I loved the way I felt afterwards, so I continued to go on."​
5. Lara Dutta
Lara Dutta practices yoga daily, and even has her own channel on YouTube, where she offers a number of videos on yoga. Lara also did parental yoga when she was pregnant.
6. Bipasha Basu
Does Bipasha like yoga? She l-o-v-e-s it! A few hours ago, she posted a pic on Instagram, where she was practising yoga with the leaders of Karnataka (and before that, a really cute pic of her practicing yoga with her hubby).