Seven women tell us the story behind The One denim piece they just can't part with...
Photographs: Sarang Sena; Styled by Zunaili Malik; Text: Saumyaa Vohra
*
ARCHANA VIJAYA
VJ and Entrepreneur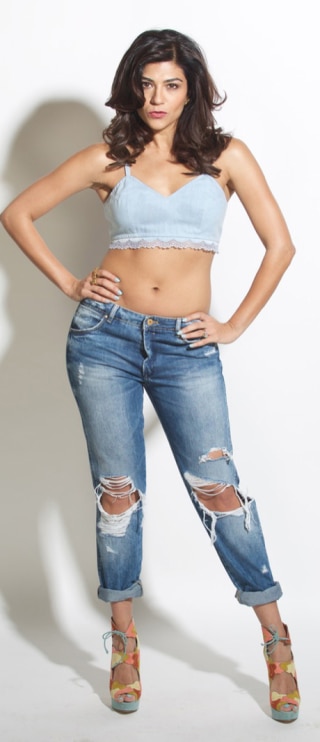 "So, when the whole boyfriend jeans/mom jeans thing became a legit trend, I scoured my mum's closet for these ones. Except, I snipped away their dowdy-factor by going nuts with a pair of scissors! Voilà—DIY denims with family history!"
RIDHI MEHRA
Designer, Ridhi Mehra
"I bought this shirt-jacket on the first trip I took after my wedding—and it's got this nostalgic travel-value to it now. I can't take a trip without it! Plus, it's that thickish kind of fabric that makes it perfect for super-cold airports!"
ANAHITA DHONDY
Head Chef, SodaBottleOpenerWala
"I picked this skirt up from Zara London, and it's been a staple ever since. I love how it works with absolutely everything—from lunch to a night-out. I think a skirt is an original way to wear denim, and I'm very attached to this piece."
SHALINI JAIKARIA
Designer, Geisha Design
"I've had these jeans in my closet for 10 years—I lived out my college days in jeans, and I swore to myself when I got pregnant with my son that, one day, I'd get back in these jeans. They're symbolic of how I reclaimed my body and got back to the size I promised myself I would."
RIMZIM DADU
Designer, My Village By Rimzim Dadu
"These shorts are so old—and I can never wear them without thinking of the one incredibly important incident we share. I went backpacking for a month, and I kid you not, I lived only on a few T-shirts and this pair of denim shorts! That's why I love them—they're comfy and they go with everything.
PAYAL PRATAP
Designer, Payal Pratap
"This denim suit means a lot to me for two reasons—one, my husband made it, and I always keep a souvenir from his collections because I know the excruciating amount of labour that goes into it. Second, because it's a denim pantsuit—other denim pieces are fairly ordinary, but this one is genuinely unique."
CAROL SINGH
Co-Founder, Antidote Juices
"These jeans are not the silhouette I usually go for—except that they're high-waisted. But I'd never done wide-legged crops before. These ones are special, though, because they arrived the day I was doing my first video blog—and they inspired it! We did the episode on how to make your hips look slimmer in jeans, and you're looking at the muse."