Cosmo asked three resortwear designers about how they plan their perfect vacay—from wardrobe picks to packing hacks, it's all here!
Anupama Dayal
Cosmo: How would you describe your airport style?
Anupama Dayal :"My airport style is simple, fuss-free—a pair of Anupamaa palazzo pants, a Uniqlo jacket for the flight, and an Anupamaa pashmina shawl."
Cosmo: What are your vacation essentials?
AD: "An Anupamaa chiffon scarf and an Anupamaa pashmina shawl. A pair of light shoes—I love Edwin Pinto's footwear, they're comfortable and stylish. And finally, sunscreen!"
C: How do you research and plan your vacations?
AD: "I Google boutique hotels, because I enjoy staying at places that are unusual, but have a local flavour. Next, I find out about the art and craft a place has to offer. I memorize a few words in the local language, and check up on the cuisine. Finally, I always read up about the history and culture of the place."
C: Any travelling tips?
AD: "1. When you're on holiday, leave yourself behind, otherwise you won't gain anything from your experience. 2. Research as much as you can. If you show locals that you're respectful and aware of their traditions, they won't see you as a tourist anymore. 3. Always bring back something special—spices, perfume, whatever. The experience stays with you that way."
C: Packing tips?
AD: "I'm terrible at folding, so I focus on 'light'. Instead of bulky sunglass cases, I get my studio to create 'sleeves' in light silk. Same for toiletry bags and clothes."
Pia Pauro
Cosmo: How would you describe your airport style?
Pia Pauro : "Honestly, when I'm travelling, I like comfort. So I wear trackpants, my Kawasaki high-top trainers, a vest, and a sweatshirt."
Cosmo: What are your vacation essentials.
PP: "My bikini! I love Mara Hoffman. Also my Ray Ban sunglasses, a bottle of Parachute Coconut Oil (it help give a really good tan), and a sunscreen. Other essentials: my Pia Pauro beach bag and tunic, and this amazing beach blanket that I bought in Zanzibar, which I always carry on holidays. And a book...I read a lot of healing spiritual books on the beach."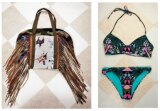 C: Any pre-holiday research tips?
PP: "I research the cuisine because I love food. I also ensure I get the best villa, location-wise, and identify the best bars in town and any music concerts that might be taking place. Finally, I find out which friends will be in the city, so we can meet up."
C: What's in your vacation beauty bag?
PP: "I don't wear a lot of make-up, but I can't do without my Diptyque perfume, an aloe moisturiser, and one orange lipstick that goes with everything."
C: Any jet-lag hacks?
PP: "I just party till 6 in the morning and power through. It's not that difficult."
C: Where are you going on vacation next?
PP: "Probably Ibiza, Montenegro or Bali."
Pria Kataria Puri
Cosmo: How would you describe your airport style?
Pria Kataria Puri: "I travel in a cotton-jersey jumpsuit and cashmere, open-kaftan jacket. And I usually wear two-inch open-toe slippers because they're extremely comfortable."
Cosmo: What are your vacation essentials.
PKP: "Hats, I have a huge collection! Shoes, in nude and gold, because they go with everything. A pair of small-heeled shoes and high-heeled wedges. Also, cross-body handbags; I love them. They don't weigh much but they can hold your passport, cash, cards, and lipstick. And finally, a pair of sunglasses."
C: Any packing tips?
PKP: "I normally pack outfits that can be taken from day to night with accessories. Also, I carry kaftan-inspired maxis that don't need to be ironed but look dressy. I never pack separates, because I don't need to worry about coordinating an outfit with maxis. Plus, bags and shoes weigh the most, so I only carry the ones I will definitely need."
C: Top travelling tips?
PKP: "1. Invest in good quality luggage. 2. Always carry a cashmere shawl or two because you can't predict weather. 3. Don't forget to carry your laptop and gadgets. If your trip gets delayed, you don't want to be disconnected from work altogether."
C: Any beauty products you always carry along?
PKP: "Face wipes, a Vitamin C moisturiser, and a lip balm."
C: Any jet-lag hacks?
PP: "Sleep on the flight. And no matter where I am, I power through the first day so that my body clock can adjust to the local time."
C: Where did you last holiday?
PP: "Kashmir! It was a skiing trip, and I took along a fur-lined jacket, cashmere jumpers, leather pants, ski nylon pants, and cool sunglasses.
Styling: Zunaili Malik; Text: Aishwarya Dravid, Photographs: (Anupama Dayal and Pia Pauro) Irina usova and (Pria Kataria Puri) Sahil Behal, Hair & Make-Up: (Anupama Dayal) iram kazmi, (Pia Pauro) Tejasvini chander and (Pria Kataria Puri) Pooja Rohira