​If you are tired of looking at your boring cubicle, here are 5 easy ways to spice up your work space. Out with the boring, in with the glam!
1) Add flowers/plants
A fun way to add colour to your cubicle is with flowers! What is better than pretty flowers that also doubles as decor? Um... nothing!
2) ...or plants!
If you are not into replacing your plants every few days, why not add plants! Our favourites are succulents, which add a ton of character on the desk and last for ages without much maintenance.
3) Photos! Photos! Photos!
Photographs of your pets, family,friends,vacations or Instagram feed will instantly add a ton of character to your work space!
via Homey oh my
4) Fun quotes/wall art
If you like to keep your personal life away from work, adding wall art or inspirational quotes is a fun way to stay motivated through out the day!
via Darling Magazine
5) Chic desk accessories
One of the easiest ways to spice up your cubicle is by replacing all your boring desk accessories with fun, chic pieces! Talk about practical and pretty!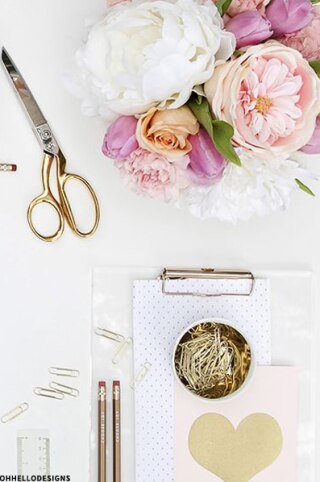 via Sheer Luxe