1) Pamper the S*hit Out of YourselfGet a mani, pedi, massage, scrub, facial, hair coloured, eyebrows shaped or whatever the heck you want!
2) Shop, Baby, Shop!Retail therapy = best therapy
3) Send Yourself Some Chocolate!Who cares how you got the chocolate? It's chocolate!!!
4) Try Something New!You know that thing you wanted to try but never had time? Well, no better time than now!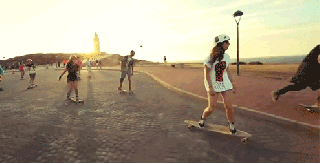 5) Hang Out With Your Girls!#whoneedsmen
6) Turn Off Insta!Who needs #couplefies?!
7) Flirt With Whoever You Want!...because why the heck not?
8) Netflix & ChillYou don't need no-one by your side!
9) Go On A Date With Yourself!Take this day to fall in love with the most important person in your life: Yourself!