Whatever time we wake up, we always seem to be running late . Somehow , the time never seems to be enough , an eye liner wing goes haywire , or a stocking runs. As a result, we often find ourselves rushing out of the house without really feeling properly put together. Sounds all to familiar ?
But do not fear , we are here to give you ten fabulous tips to getting ready in under ten min, leaving you feeling fabulous and on time, every single time.
1. Streamline your makeup routine with hybrid products : Use a foundation/concealer, lipstick with built in gloss and liner and highlighting blusher to cut the minutes on your make up routine.
2. Stick it up , spray it on: Any makeup or product in stick or spray form cuts out minutes in terms of application time, and is easier and fuss free to use. Say goodbye to brushes and applicators and save tons of time.
3. Wash your hair the night before: Take out the time and wash and dry your hair at night. Tie it up in a loose bun or a silk scarf when you sleep. That way you can wake up to fabulous hair that require just a min of straightening or tonging and you are all set.
4. Double book your shower: Washing your face and even brushing your teeth while showering can cut down on bathroom time , leaving you with more precious minutes to get dressed.
5. Lay out your outfit the night before : This one seems like a no brainer , but the fact is choosing your clothes when you are all fuzzy with sleep and rushed in the morning can take way longer, so this can save you a ton of time.
6. Use a coloured liner :Just spending 30 sec to apply coloured eye liner can make it look like you have spent an ton of time on your makeup routine, helping you look all prepped and ready.
7. Get eyelash extensions:Putting in eye lash extensions helps you look glam and ready at all times, while eliminating the need for mascara.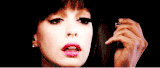 8. Set a timer : Put an alarm on your phone to warn you to leave and prevent doddling. Or pick your favourite morning songs timed to a ten min play list. When the music ends, its your key to bounce.
9. Take your hair up : Rock a sock bun to look put together and glam, or tie it up and add a hairband to look put together and ready in minutes, without the fuss.
10. Add a glam accessory : Sometimes, an eye catching necklace , belt or earrings can do wonders to make your outfit look well put together in seconds, without wasting too much time.